ZBW – Leibniz-Institut / Informationszentrum Wirtschaft
About the ZBW
The world's knowledge in economics. Qualified. Organised. Accessible.
The ZBW – Leibniz Information Centre for Economics is a researched-based information infrastructure for economics and a member of the Leibniz Association.
The ZBW engages nationally and internationally to make research findings in economics accessible to all.
The ZBW carries out research on Open Science, continuously develops innovative services and engages for the Open Access Transformation in economics. It has professorships at Kiel University, Hamburg University and Hamburg University of Applied Sciences. The ZBW keeps its own work transparent in accordance with its "ZBW OA Policy".
The ZBW holds the world's largest stock of economic literature.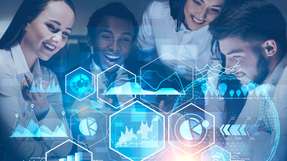 Who is the ZBW?
The ZBW – Leibniz Information Centre for Economics is the world's largest research infrastructure for economic literature, online as well as offline.
Its disciplinary repository EconStor provides a large collection of more than 245,000 articles and working papers in Open Access.
EconBiz, the portal for international economic information, allows students and researchers to search among nearly eleven million datasets.
The ZBW edits two journals in economic policy, Wirtschaftsdienst and Intereconomics.
The ZBW is a member of the Leibniz Association and has been a foundation under public law since 2007. It is affiliated with the Christian-Albrechts-University of Kiel. Several times the ZBW received the international LIBER award for its innovative work in librarianship. The institution currently employs a staff of approximately 271.
What does the ZBW do?
The ZBW supports economists and students in their learning, researching and publishing processes.
We provide the infrastructure so that researchers can concentrate on their publishing activities, for instance with the implementation of databases for primary research data. The ZBW conducts projects for the science community.
We continually increase our own research activities in order to provide students and researchers in economics and business administration with excellent research support.