Postdoctoral Fellow in ultrafast laser science (m/f/d)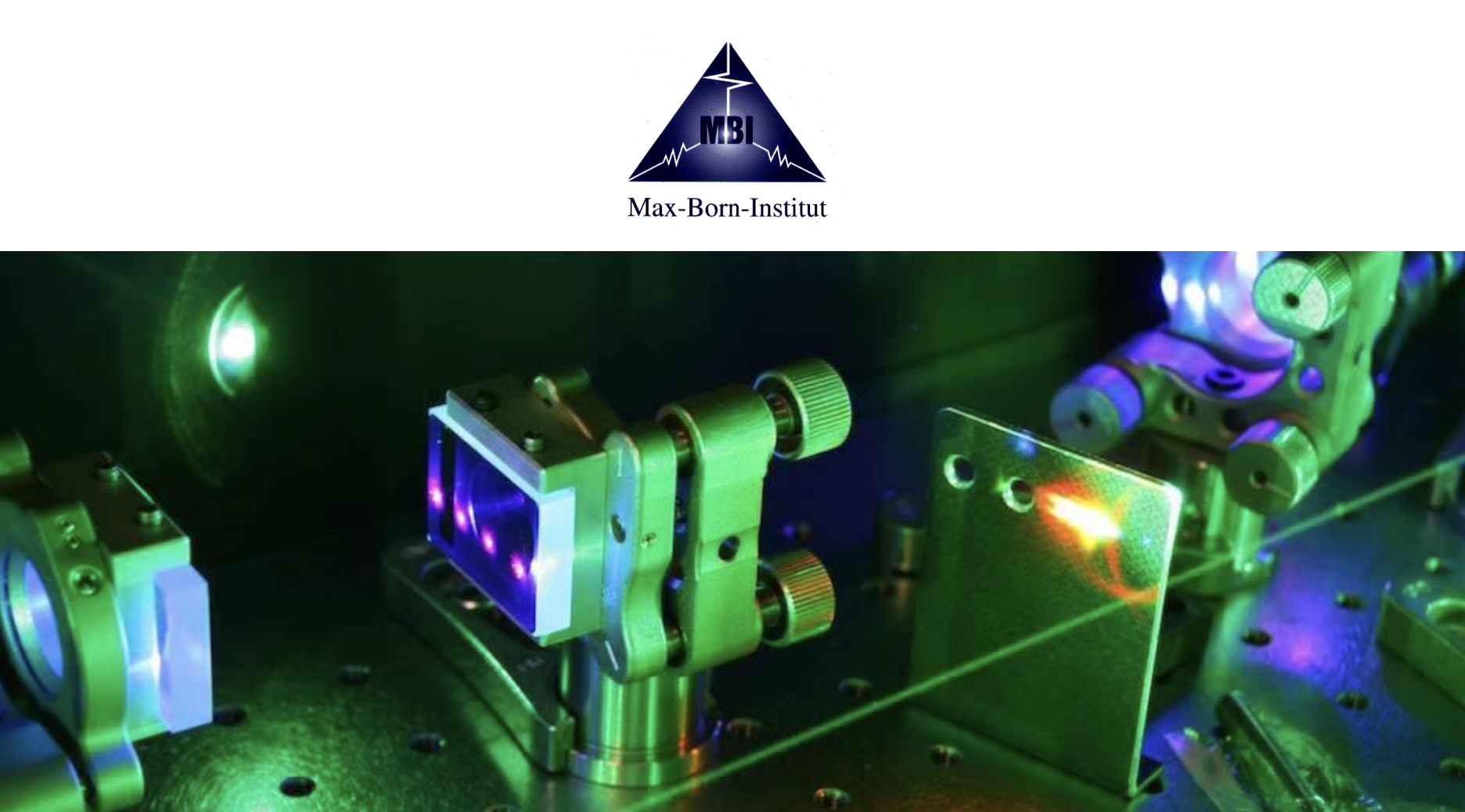 The Max-Born Institute for Nonlinear Optics and Short Pulse Spectroscopy (MBI) conducts basic research in the field of nonlinear optics and ultrafast dynamics arising from the interaction of light with matter and pursues applications that emerge from this research. It develops and uses ultrafast and ultra-intense lasers and laser-riven short-pulse light sources in a broad spectral range in combination with methods of nonlinear spectroscopy. The spectral range includes in particular XUV radiation and soft x-rays, where experiments at in-house sources are complemented with the use of accelerator driven sources such as free electron x-ray lasers.

With its research, MBI fulfils a national mission and is an integral part of the international scientific community.

The Max-Born Institute invites applications for a Postdoctoral Fellow in ultrafast laser science (m/f/d)
Job profile:
MBI is developing laser-driven high harmonic generation (HHG) sources of femtosecond soft x-ray pulses, for experiments in and beyond the water window. After successful implementation of a first OPCPA system operating at 2 µm, pumped by a state of the art commercial 500 W thin disk laser system, a second system operating at 3 µm is now being set up with a similar architecture. We are looking for a postdoctoral researcher as part of our team who will work on the implementation, characterization and further development of the systems. Following the completion of the 3 µm system, the researcher will participate in conducting the first transient absorption experiments in magnetic and low-dimensional materials, focusing on the laser- and HHG-related aspects of the experiments.
You will work as a scientist in a team of experts towards this goal, present your results in scientific journals and at conferences and take part in shaping this research field within MBI. MBI offers excellent working conditions and a state-of-the-art infrastructure in a highly dynamic and international environment at the forefront of research.
Requirements:
The successful candidate holds a Ph.D. degree in physics or a related area and has a track record for performing excellent research with hands-on experience in the areas of experimental ultrafast laser development, OPCPA technology or high harmonic generation. The ability to work both independently and in a team is important, as well as effective written and verbal communications skills. Knowledge of the English language is essential.
Offer:
The research position is available immediately and limited to a duration of 2 years. The payment is according to the German TVöD (Bund) salary scheme for scientists in public research institutions. The position is available immediately and open until filled.
MBI is an equal opportunity employer and places particular emphasis on fostering career opportunities for women. Qualified women are therefore strongly encouraged to apply. If equally qualified, severely handicapped persons are given preference.
MBI supports the reconcilability of family and working life and is certified as family-friendly by the "family audit".
Please use the button "Apply" and upload your application with a CV, a description of the research experience, publication list, references, and/or recommendation letters electronically via the MBI online recruiting platform at https://mbi-berlin.de/career.
For further information and inquires please contact Dr. Matthias Schnürer (schnuerer@mbi-berlin.de).