Scientist Position for Ecohydrological Modelling (m/f/x)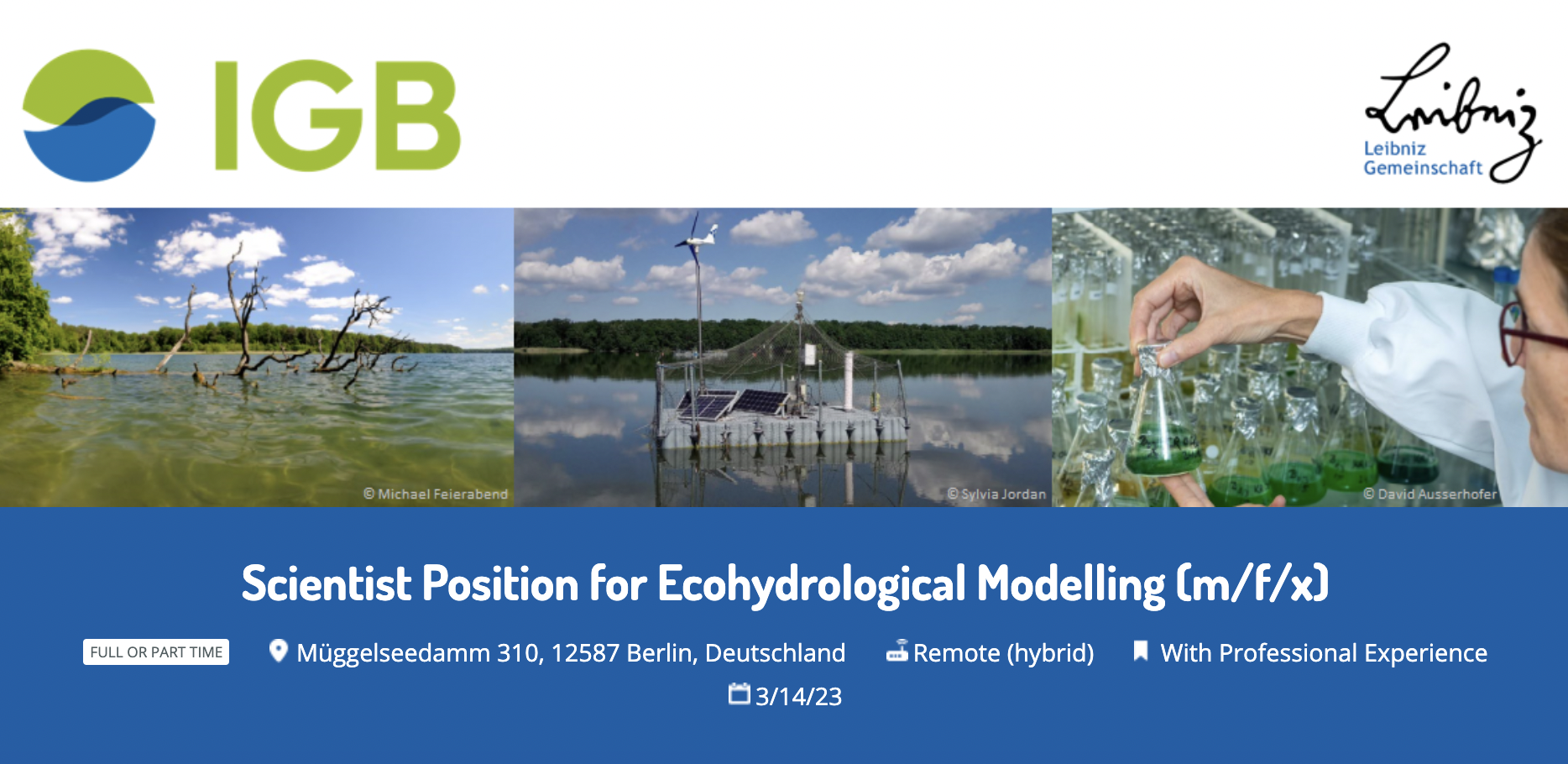 The research group Ecohydrological Modelling and Hydrological Change, based at IGB in Berlin-Friedrichshagen at Lake Müggelsee, is recruiting for a Scientist Position (100%, 21 months) for Ecohydrological Modelling in a Transient Climate.
Existing hydrological models still have difficulties to accurately represent the impact of given climatic variations, which has important limitations for their application in climate impact studies. This indicates problems with the representation of relevant processes or their interactions and feedbacks, but the causes of poor model performance in a changing climate are currently not well understood.
Our group aims at a mechanistic understanding of ecohydrological systems in a changing climate by integrating state-of-the-art ecohydrological modelling and data-based analyses. We use a range of observational data including remote sensing, lysimeter, and eddy-covariance data to test and further develop modelling approaches suited for a transient climate. Long-term simulations over periods with clear climate change signals enable us to better understand observed hydrological changes, which is crucial for predicting possible future changes.
The focus of the advertised position is on model implementation across multiple catchments, assessing and improving model performance using in-situ and satellite-derived data and model analysis aiming at better understanding climate-induced hydrological changes (e.g. linkage between changes in snow cover and evapotranspiration; effects of an increased frequency of warm-dry periods; feedbacks with changes in vegetation). The specific research focus will be determined considering experience and interest of the candidate.
We seek a dynamic, motivated and ambitious scientist to join our group on Ecohydrological Modelling and Hydrological Change to improve hydrological modelling in a transient climate. The ideal candidate should be experienced in combining process-based understanding with strong numerical modelling skills. They will have experience in the development and application of numerical models for different purposes, at different scales and environmental science contexts.
Your tasks
Process-based ecohydrological modelling in multiple catchments

Model evaluation with in-situ and satellite-derived data

Model analyses aiming at quantifying and better understanding climate-induced hydrological changes

Publication of results in scientific journals
Your profile
A PhD or equivalent in hydrology, meteorology, geoecology or a related field of environmental science or engineering (or being close to receiving a PhD); in case of an excellent MSc and a good fit of the profile, the position could be adjusted into a 3-year PhD position (65% E13) requiring a Master's degree in one of the fields mentioned above

Expert knowledge in the application of numerical models, e.g. for hydrological, land-surface and/or vegetation modelling

Excellent programming skills (e.g. R, Python or another scripting language; experience with C/C++ is advantageous)

Experience in model development, multi-criteria calibration and in use of remote sensing data for hydrologic purposes is an asset

Expertise in working with large data sets, high-performance computing systems and use of version-control systems is advantageous

A strong publication record in internationally leading journals (commensurate with career stage)

Strong English language skills both in oral and written communication

Ability to work independently and in a team environment
Our offer

We offer an exciting job on highly topical research questions in an international and dynamic scientific working environment with opportunities for flexible working hours and mobile working.
This is a full-time position with 21 months duration and a tentative start date of 01.06.2023 (or shortly thereafter). If preferred, the position may also be set up as a 2-year position at 85%. Salary is paid according to the German salary scheme for the public service (TVöD Bund E13).
We foster your career development by providing qualification and training opportunities. We actively support the reconciliation of work and family life. The IGB is committed to diversity. We welcome every qualified application, regardless of sex and gender, origin, nationality, religion, belief, health and disabilities, age or sexual orientation. IGB is committed to increasing the number of women in this field, therefore applications from women are particularly welcome. Severely disabled applicants with equal qualification and aptitude will be given preferential consideration.
Are you interested?
We look forward to receiving your application including a letter outlining your motivation and suitability for the position, a detailed CV, contact details for 2 referees, copies of educational transcripts / certificates. Please provide all documents as a single PDF file by 31.03.2023. Please state the job reference number 24/2023 and apply exclusively via our recruitment platform at www.igb-berlin.de/en/jobs. Questions can be directed to Dr. Doris Düthmann at doris.duethmann@igb-berlin.de.
"Research for the future of our freshwaters" is the mission of IGB – Germany's largest and one of the leading international centres for freshwater research. In order to investigate different aspects of freshwater ecosystems, their biota and societal relevance, we unit a wide range of disciplines and understand research as a joint effort. With more than 350 employees and guests from all over the world, we conduct research at five locations in Berlin and at Lake Stechlin (Brandenburg). IGB is a member of the German Leibniz Association and the Forschungsverbund Berlin e. V. www.igb-berlin.de