Postdoctoral Researcher (m/f/d) in Microbiome Research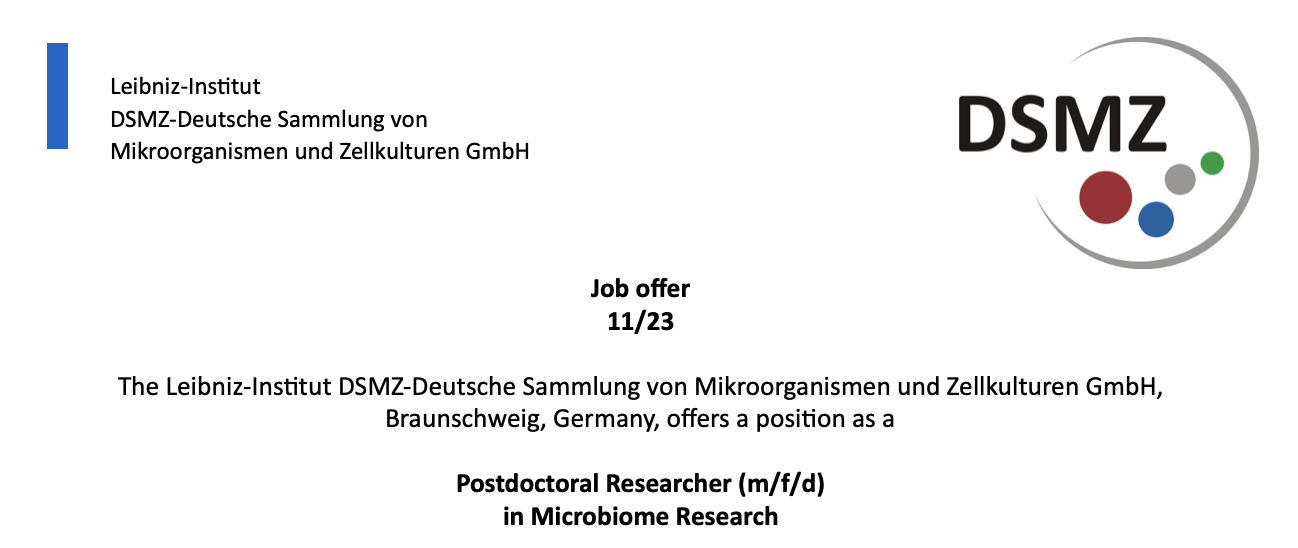 The position is available in the Department Microbial Ecology and Diversity Research. Appointment will be for 3 years. The salary-level will be TV-L 13, according to qualification. The position is offered full time but not appropriate for part time work. The starting date envisioned is July 1, 2023. 
State-of-the-art Omics and cultivation methods are applied to identify and analyze core microbiomes and microbiome keystone taxa from selected use cases (soil, seeds, marine environment). This involves the study of molecular abundance patterns across environmental gradients, novel network analyses, the determination of the activity status of microbial cells, functional analysis through metagenomics, targeted cultivation, and the reconstruction of synthetic consortia. Work is funded by the EU within the project MICROBE - MICRObiome Biobanking Enabler and involves a close interaction with collaboration partners, both on a national and international level. 
What you offer: 
Successfully completed studies in life sciences and a Ph.D. / Dr. rer. nat. degree 
Good working knowledge of methods for sequence analysis
Experience in the cultivation of microorganisms and in microbial physiology 
A good command of English 
Ability for scientific writing, documented by several publications in peer-reviewed journals 
Interest in interdisciplinary work 
Some experience in the field of microbiome research would be advantageous. 
 What we offer:  
Research opportunities at the forefront of life sciences 
Plenty of room for creativity & challenging topics
Access to state-of-the-art Omics methods, including long read DNA sequencing technologies and metabolomics 
Access to cell sorting and high throughput cultivation technology
Access to in-house high-performance computing clusters (2,464 CPUs, 18 TB RAM) 
An interdisciplinary working environment with frequent exchange of experiences 
A motivated research team and a pleasant working atmosphere in a scientific environment 
Education and training 
A company certified according to audit berufundfamilie, therefore flexible possibilities to combine work and family life.
Is this you? Then we look forward to receiving your application.
The DSMZ strives to increase the proportion of female scientists and encourage female candidates specifically to apply. Disabled applicants with identical technical and personal qualification will be preferentially selected. In order to protect your interests, we ask that you inform us of your severe disability/equality already in your application and provide proof of it. 
The DSMZ is an equal opportunity employer. 
For further information and more detailed project descriptions please contact Prof. Dr. Jörg Overmann (joerg.overmann@dsmz.de). Please send your complete application documents including a CV, motivation letter, copies of certificates, and contact details of two academic referees in a single PDF file with application number 11/23 to bewerbung@dsmz.de. 
The deadline for this application is 11th of June 2023, but we may continue to review applications until the position is filled.

DSMZ - Leibniz-Institut / Deutsche Sammlung von Mikroorganismen und Zellkulturen
---
Visit employer page
---
Deadline:
2023-06-11
Location:
Germany, Braunschweig
Categories:
Ecology, LifeScience, metagenomics of microorganisms, Microbiology, Microbiome, microorganisms analyses, PhD, Postdoc, Researcher,
Apply
Ads