Natural scientist or engineering scientist (f/m/x)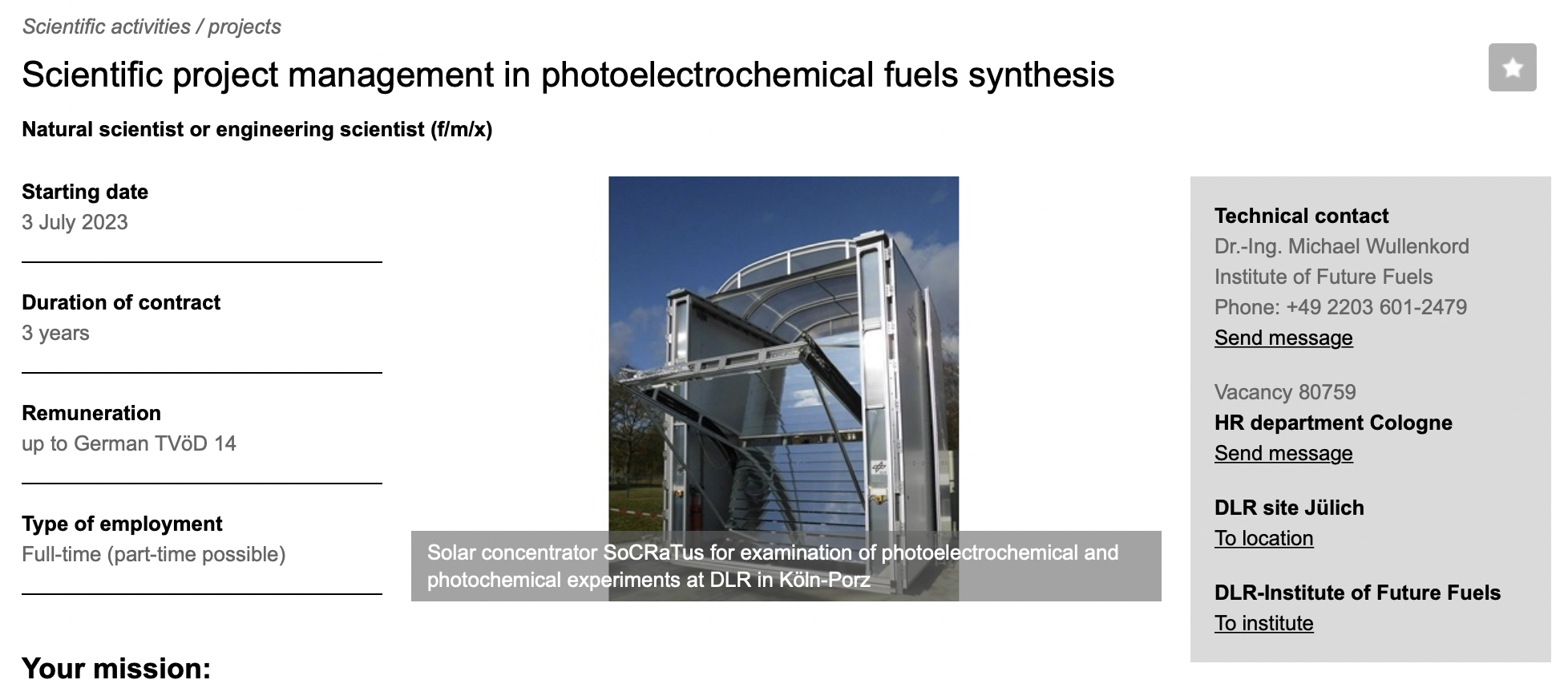 You would like to contribute to a sustainable future by advancing solar-based fuels production? Then you are exactly right with us!
The vision of the DLR Institute for Future Fuels is to develop technological solutions that enable the cost-effective production of fuels, hydrogen, or even chemical commodities in the sunbelt of the earth on an industrial scale. At the institute, we use our unique infrastructure in which concentrated solar energy covers the energy demand of high-temperature and high photon-flux processes.
For efficient production via photoelectrochemical processes high-performance reactors, materials and catalysts are required as key components. Detailed knowledge about their characteristics under operating conditions are required for evaluating their performance in a production system and at long-term operation.
Our research aims at increased turnover rates and higher energetic efficiency by application of high-performance catalysts and semiconductor materials, development of improved radiation transfer systems and robust system components. Our way to application leads us from concept and modelling studies to first tests and qualifications at lab scale to scale-up studies under concentrated natural or artificial sunlight from our test facilities at technical scale. Studies at pilot or demonstration scale are sought to complete the development from the idea to practical application.
You will work in a team of experts of various disciplines within our institute as well as with national and international partners. You will plan and acquire research projects on the development and qualification of reactors, materials and components for the synthesis of energy carriers and fuels in national and European programs. As a project manager you will lead research projects and supervise the scientific implementation as well as the erection and operation of test setups. As a scientist you will prepare and publish reports and results and develop further research activities, technical devices and measurement techniques.
you have a university degree (Master / Diploma) in natural sciences (e.g. chemistry or physics) or in engineering sciences (e.g. mechanical or process engineering) or similar studies with relevance to this job opening
you are an advanced researcher with several years of experience and with sound knowledge in measurement techniques in photonic and photovoltaic applications
ideally, you have in-depth knowledge of electrochemistry and semiconductor photochemistry
you have sound experience in concentrating solar techniques and in the design, construction and operation of complex experimental setups and measurement devices
formulation of research tasks, acquisition and management of scientific projects have been main parts of your career
you have published your work regularly in scientific journals and at international conferences
you have proven ability to solve problems on your own as well as working in teams and you are used to interdisciplinary cooperation
curiosity and willingness to learn are your special strengths
you have the ability to express complex factual situations in oral or written presentations in German and in English
ideally, you have basic knowledge of French and Spanish
Look forward to a fulfilling job with an employer who appreciates your commitment and supports your personal and professional development. Our unique infrastructure offers you a working environment in which you have unparalleled scope to develop your creative ideas and accomplish your professional objectives. Our human resources policy places great value on a healthy family and work-life-balance as well as equal opportunities for persons of all genders (f/m/x).Individuals with disabilities will be given preferential consideration in the event their qualifications are equivalent to those of other candidates.
DLR - Helmholtz / Deutsches Zentrum für Luft- und Raumfahrt
---
Visit employer page
---
Deadline:
2023-07-03
Location:
Germany, Jülich
Categories:
Chemistry, Electrochemistry, Engineering, Mechanical Engineering, Natural Science, Photonics, Physics, Process Engineering, Scientist,
Apply
Ads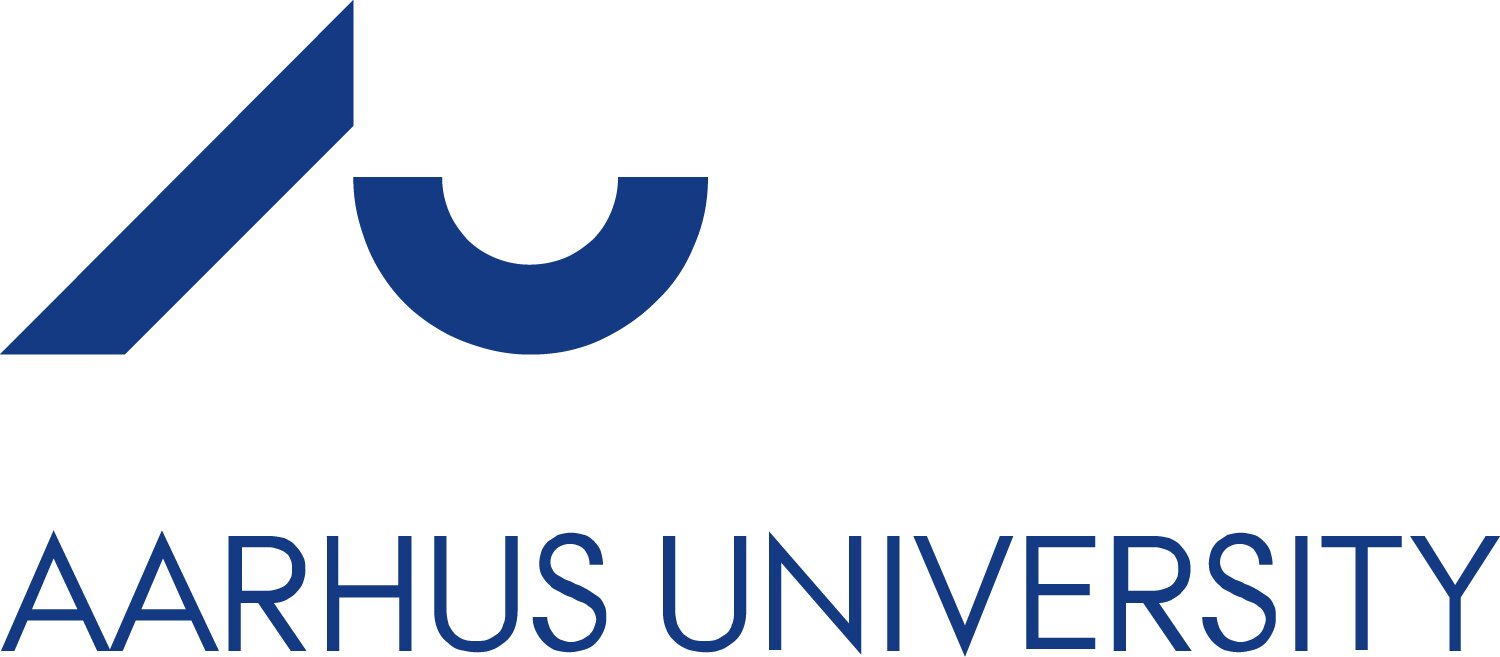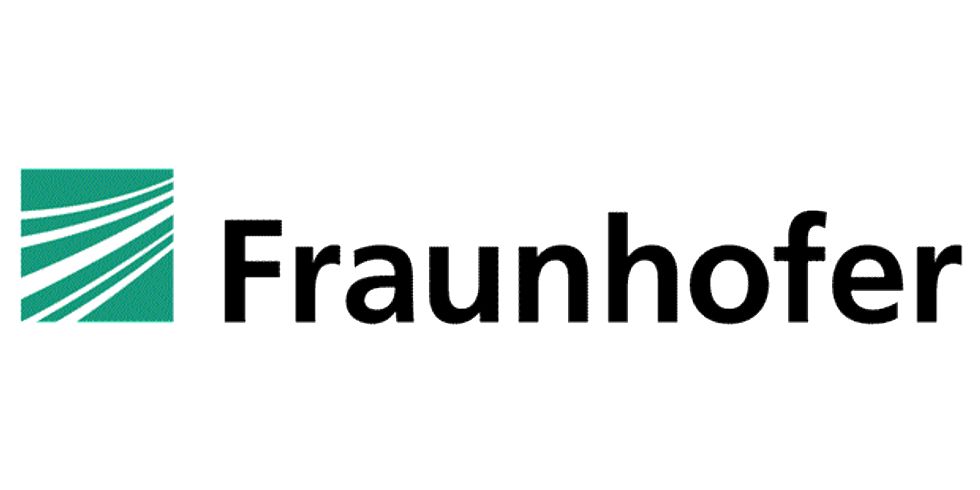 More jobs from this employer