Process Engineer, Mechanical Engineer or similar (f/m/x)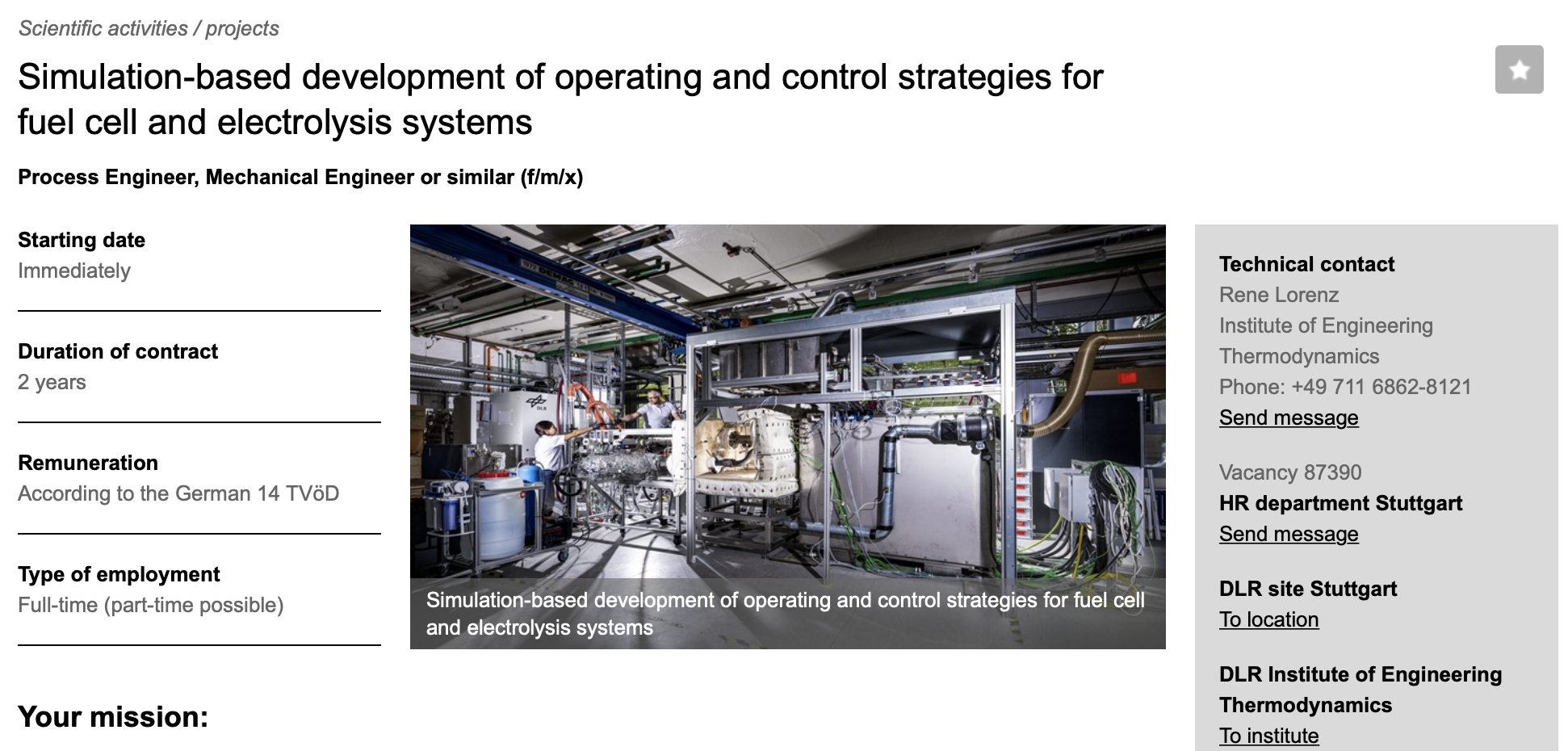 The increasing demand for emission-free propulsion systems for rail, water and air, as well as the need for efficient conversion of renewable electrical energy into storable chemical energy, in the context of national and international climate targets, requires the systematic research and development of innovative energy conversion systems. The conversion between electrical and chemically bound energy can be performed particularly efficiently using solid oxide cell (SOC) reactors. Such SOC reactors can be operated in both fuel cell mode and electrolysis mode.
They are thus suitable for use in electric drive systems, as well as in stationary systems for the storage of renewable energies and the production of chemical feedstocks (power-to-X). In the research group Electrochemical High Temperature Processes (EHT) we investigate these reactors through experiments and simulations. Our focus is on conceptual design, demonstration and operation at the system level; with the aim to find solutions to the trade-offs between efficiency, operating time, safety, and cost. We carry out our research topics in a large number of national and international research projects together with other centres of excellence and leading industrial partners.
In our team, a very diversified field of tasks awaits you. Your work will focus on the transient modelling and simulation of SOC systems at the multi-MW scale with the following tasks:
You will develop simulation-based operating and control strategies for SOC reactors in integrated process chains and application-oriented systems, and develop concepts for upscaling the systems to the multi-MW scale.
In doing so, you will take over the scientific management of the simulation framework TEMPEST, which was developed specifically for the systems considered here. TEMPEST with its range of functions, represents a unique tool for the transient modelling of electrochemical processes and energy systems, from the reactor level to the overall system.
With the help of the simulation framework, you will create transient models with which the lowdamage operability and the main aspects of the scalability of real reactors can be represented and investigated. For this purpose, you will identify new modelling approaches and be responsible for their implementation, according to the requirements of ongoing projects and projects to be acquired.
Furthermore, you coordinate the interface between the simulative and experimental work within thegroup. You use the collected experimental data to validate your models, and the knowledge gained from this data supports the elucidation and prediction of experimental investigations. In doing so, close coordination with experimental colleagues is important and you will support them in the experimental design.
In addition, you will develop concepts for the strategic orientation of the working group, including the group's own assets, which include the simulation framework, as well as two reactor test stands and 2 large-scale plants. After consultation with the group and department management, you will lead the implementation of the concepts you have developed.
You will prepare and plan third-party funded research projects and write the grant applications. To this end, you work with project leaders, managers and project partners on planning resources, timeframes and budgets.
You represent DLR at status conferences of large funding measures and at scientific conferences, present research results and expand your network in the process. To ensure that you are also well positioned in the future, you can continue to develop in our team through a variety of training measures and tools.
You hold a university degree (Diplom/Master) in natural sciences (e.g.mathematics, physics, chemistry) or engineering sciences (e.g. process engineering, energy technology, mechanical engineering or related courses of study).
You have several years of experience in scientific work in one of the fields of energy systems engineering, systems/energy process engineering or chemical process engineering
You have published your previous work in several international scientific journals
You have several years of professional experience in the field of steady-state and transient process engineering system simulation
You have a sound knowledge of one or more programming and modelling languages
Ideally, you have experience in team and task organization
You have first knowledge in dealing with budget and resource planning, risk analysis
Experience in setting up and operating complex process engineering systems is an advantage
Look forward to a fulfilling job with an employer who appreciates your commitment and supports your personal and professional development. Our unique infrastructure offers you a working environment in which you have unparalleled scope to develop your creative ideas and accomplish your professional objectives. Our human resources policy places great value on a healthy family and work-life-balance as well as equal opportunities for persons of all genders (f/m/x).Individuals with disabilities will be given preferential consideration in the event their qualifications are equivalent to those of other candidates.
DLR - Helmholtz / Deutsches Zentrum für Luft- und Raumfahrt
---
Visit employer page
---
Deadline:
2023-12-31
Location:
Germany, Stuttgart
Categories:
Chemical Engineering, Chemistry, Mathematics, Mechanical Engineering, Natural Science, Physics, Process Engineering,
Apply
Ads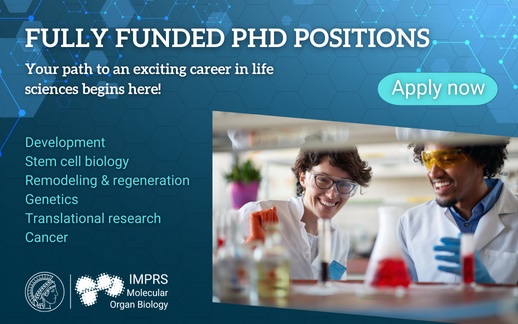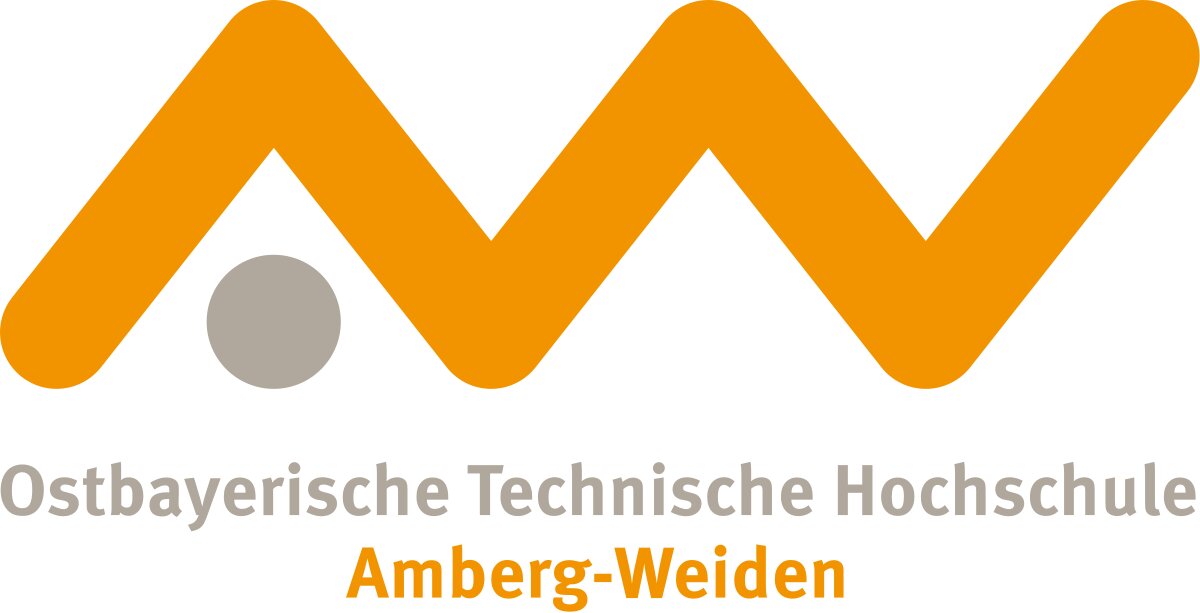 More jobs from this employer