Post-Doc (m/w/d)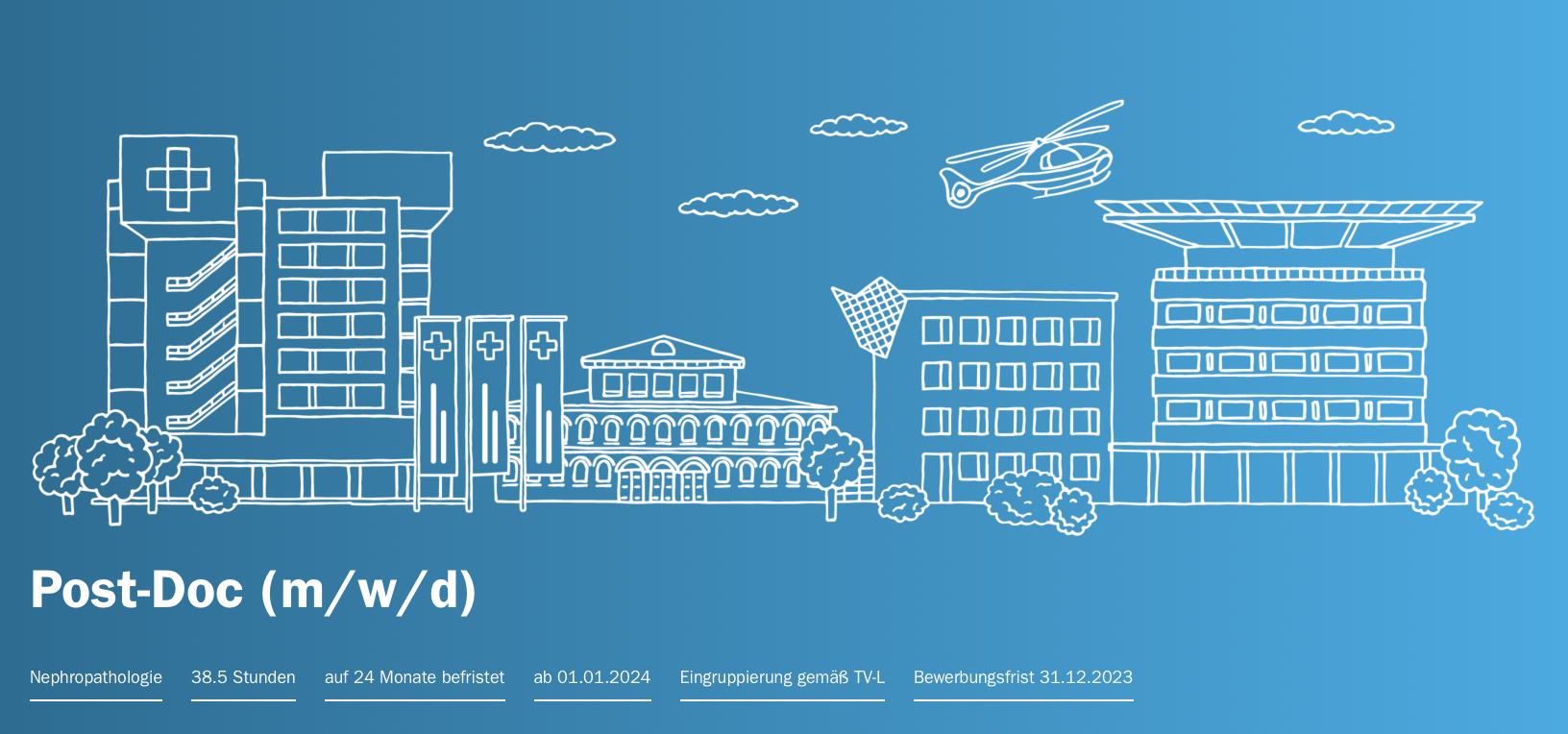 Klingt spannend?
Das sind wir:
Patientenversorgung auf höchstem Niveau, ausgezeichnete Forschung und Lehre sowie modernste Medizin und Diagnostik – das sind wir vom Uniklinikum Erlangen! Mit unseren über 9.500 hoch qualifizierten Beschäftigten sind wir einer der größten Arbeitgeber Mittelfrankens und wachsen stetig weiter. Dank der wissenschaftlichen Expertise und des großen Engagements unserer Mitarbeitenden bieten wir unseren Patientinnen und Patienten einzigartige und zukunftsweisende Behandlungsmöglichkeiten. Damit gewährleisten wir medizinischen Fortschritt. Finden auch Sie bei uns den perfekten Job, der für Sie und andere Sinn ergibt!

Elucidating function and signaling of Gpr126 in kidney development and disease

Acute kidney injury (AKI) and chronic kidney disease (CKD) represent together the fastest-growing pathology worldwide. The prevalence of CKD is in many countries > 10%. As currently no effective therapies exist to restore kidney function, it is important to establish diagnostic markers/therapies that prevent, reduce, or even reverse kidney damage. Adhesion G protein-coupled receptors (aGPCRs) represent the second largest class of the GPCR superfamily, but they are poorly understood. GPCRs are involved in many human diseases and are currently targeted by ~34% of all approved drugs by the US Food and Drug Administration. Therefore, uncovering the function of understudied GPCRs provides a wealth of untapped therapeutic potential. Our preliminary data show that the aGPCR Gpr126 is expressed in zebrafish, mice, rats, and humans in the kidney and becomes enriched in epithelial cells during development. In the adult kidney, Gpr126 is expressed in juxtaglomerular cells, parietal epithelial cells (PECs), and the collecting duct epithelial cells, as well as the urothelium. In addition, analysis of the kidneys of Gpr126 knockout mice utilizing explant cultures shows that Gpr126 is required for proper ureteric bud branching. Furthermore, the analysis of two zebrafish mutants revealed that gpr126 is required for tubular morphogenesis and specification of tubular segments. Finally, the analysis of Gpr126 expression changes in injured/diseased kidneys from animal models as well as patients shows that Gpr126 is markedly upregulated in collecting duct epithelial cells and/or PECs. Based on these data we hypothesize that i) Gpr126 contributes to the differentiation of the nephron establishing segment identity. ii) Gpr126 is useful as a diagnostic marker in kidney disease. iii) Gpr126 is a promising new therapeutic target for renal diseases. Here, we propose to test these hypotheses by 1) Identifying cellular processes controlled by Gpr126 in kidney development and disease. 2) Determining the in vivo Gpr126 interaction partners. 3) Analyzing kidney-specific Gpr126 KO mice and zebrafish gpr126 mutants. 4) Determining the effect of inducible kidney-specific Gpr126 KO in kidney disease. Considering that aGPCRs represent the second largest class of the GPCR superfamily but are poorly understood and that Gpr126 has so far neither been studied in the context of kidney development nor disease, elucidating the role of Gpr126 in kidney development and disease is not only of great interest to the field of nephrology but also the aGPCR field and the general public considering the socioeconomic burden of kidney disease.
Die Aufgaben
Erforschung der Funktion des Adhäsions G protein-gekoppelten Rezeptors Gpr126 während der Nieren- und Herzentwicklung sowie Erkrankungen mit Hilfe von vorhandenen Zebrafischmutanten und konditionellen Knockout Mauslinien. Zudem sollen hiPSC-basierte Nierenorganoide etabliert werden- Das Projekt wird durch die DFG gefördert.
Das Know-how dafür
Abgeschlossene Promotion in einem der folgenden Bereiche: Biologie, Biochemie, Molekulare Medizin, Pharmakologie oder vergleichbar
Zusätzlich von Vorteil
Erfahrung im Bereich der Nierenforschung. mit human-induzierten pluripotenten Stammzellen, RNA seq., PCR, RT-PCR, Western Blot, Immunfärbungen, Isolierung und Kultivierung von tierischen Zellen, Analyse von Phänotypen in Maus und Zebrafish, operative Eingriffe an Maus/Ratte
Das bieten wir
Einen krisensicheren Arbeitsplatz mit allen Annehmlichkeiten eines Tarifvertrages, inkl. Zusatzvorsorge der Versorgungsanstalt des Bundes und der Länder (VBL), bei uns als systemrelevanter Arbeitgeber im öffentlichen Dienst
Eine interessante Tätigkeit in einem motivierten, aufgeschlossenen Team
Sorgfältige und qualifizierte Einarbeitung
Ein umfassendes Angebot zur Gesundheitsförderung
Beabsichtigte Eingruppierung, je nach Qualifikation und persönlichen Voraussetzungen, gemäß TV-L
Arbeiten am UKER
Wir zählen zu den besten Krankenhäusern Deutschlands und sind einer der größten Arbeitgeber in Mittelfranken. Diesen Erfolg erarbeiten tagtäglich unsere über 9.500 hoch qualifizierten Beschäftigten in unterschiedlichsten Berufen. Wir als Uniklinikum Erlangen wissen, dass alle unsere Beschäftigten wichtig sind, damit auch in Zukunft modernste Medizin, ausgezeichnete Forschung und Patientenversorgung auf höchstem Niveau gelingen.
Wenn Sie sich eine Tätigkeit mit einem hohen sozialen Wert wünschen und die Welt der Spitzenmedizin mit uns gemeinsam gestalten und ermöglichen möchten, dann sind Sie bei uns richtig!
Hinweise zu Impfungen Das UKER als Arbeitgeber
Das hört sich gut an? Dann passen wir bestimmt zusammen!