Engineer, natural scientist, computer scientist or similar (f/m/x)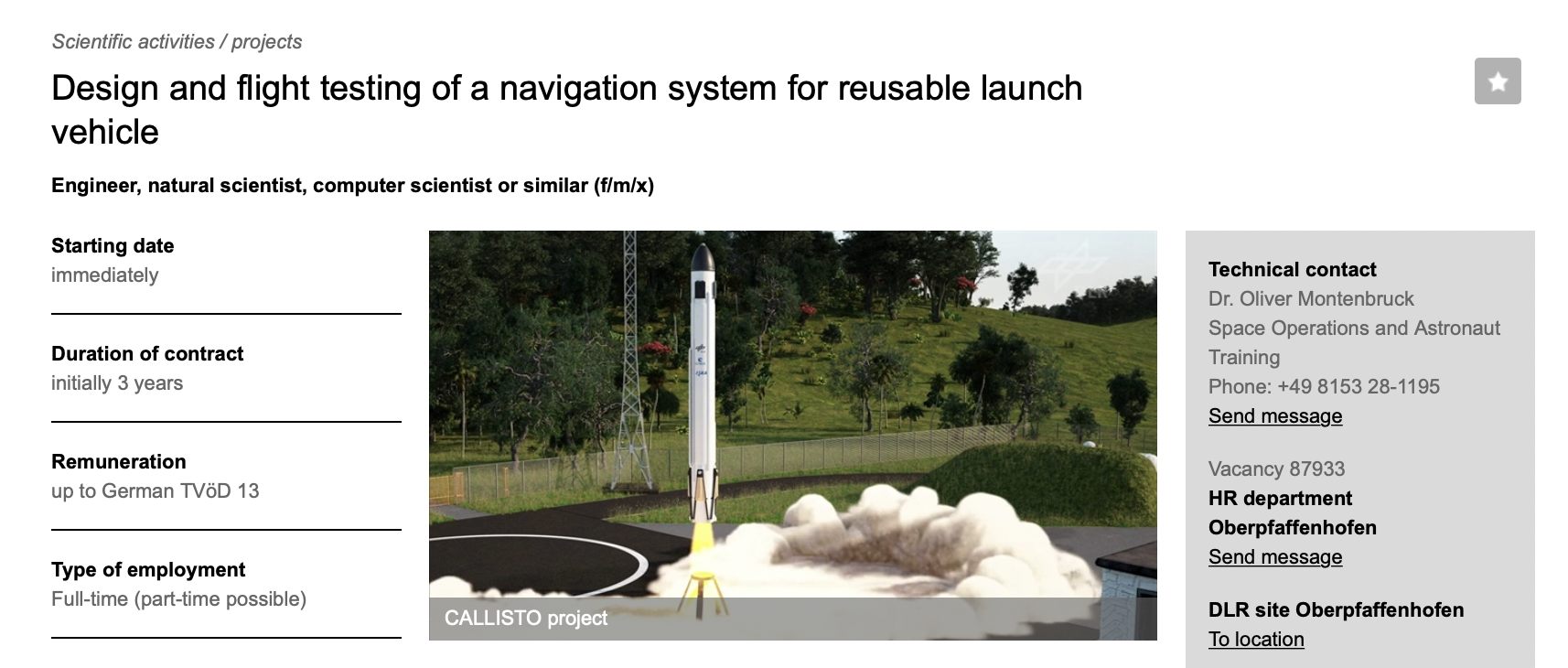 The Space Flight Technology Division of the German Space Operations Center (GSOC) supports satellite and sounding rocket missions operated by the facility. On the one hand, it provides the necessary flight dynamics services and, on the other hand, researches and develops innovative technologies for the operation of space missions. This includes work in the areas of GNSS-based navigation of satellites as well as sounding rockets and launch vehicles, on-orbit servicing (OOS), space situational awareness (SSA) and on-board autonomous sensor data evaluation.
As part of the CALLISTO project, together with the French partner CNES and the Japanese partner JAXA, DLR is developing and demonstrating key technologies for the next generation of more sustainable launch vehicles. To this end, the three partners are jointly developing a demonstrator of a reusable, vertically landing rocket stage, which is scheduled to lift off from the European spaceport in Kourou for the first time at the end of 2025. To support this project, we are looking for a research assistant for the development and flight testing of a differential GNSS navigation system, which is required for the highly accurate monitoring and control of the reusable rocket stage during the landing phase as of October 1, 2023.
You will accompany the project from the development and integration to the flight testing. If you want to be part of an international development team and contribute to more sustainable space flight, we look forward to receiving your application.
In detail, you will work on the following tasks:
scientific studies on the accuracy and robustness of GNSS and hybrid navigation in the various flight phases

interface design for the integration of the differential GNSS system into the hybrid navigation system

architecture design, interface definition, software development, and construction and calibration of the DGNSS reference station

planning, setup and evaluation of environmental, functional and system tests of the GNSS components of the on-board and ground system

preparation and support of flight campaigns at the lift-off/landing site (Kourou)

scientific analysis of flight data

presentation of developments and flight results in refereed journals and at national and international conferences

independent preparation of the required project documentation
Master degree in engineering, natural science, computer science or a comparable field of studies

good programming skills in C/C++ and Matlab/Simulink or Python

knowledge of satellite navigation

practical experience in real-time data processing on embedded systems

ability to do independent technical-scientific work and to create technical-scientific reports

fluent language skills in English (spoken and written)

ability to work in a team and to present yourself to the public

willingness to go on test campaigns abroad

language skills in French are a plus
Look forward to a fulfilling job with an employer who appreciates your commitment and supports your personal and professional development. Our unique infrastructure offers you a working environment in which you have unparalleled scope to develop your creative ideas and accomplish your professional objectives. Our human resources policy places great value on a healthy family and work-life-balance as well as equal opportunities for persons of all genders (f/m/x). Individuals with disabilities will be given preferential consideration in the event their qualifications are equivalent to those of other candidates.
DLR - Helmholtz / Deutsches Zentrum für Luft- und Raumfahrt
---
Visit employer page
---
Deadline:
2024-01-31
Location:
Germany, Oberpfaffenhofen
Categories:
Computer Engineering, Computer Sciences, Engineering, Natural Science, Scientist,
Apply
Ads