Postdoc position in microbial OMICS and microplastics (fixed-term for 36 months) (m/f/x)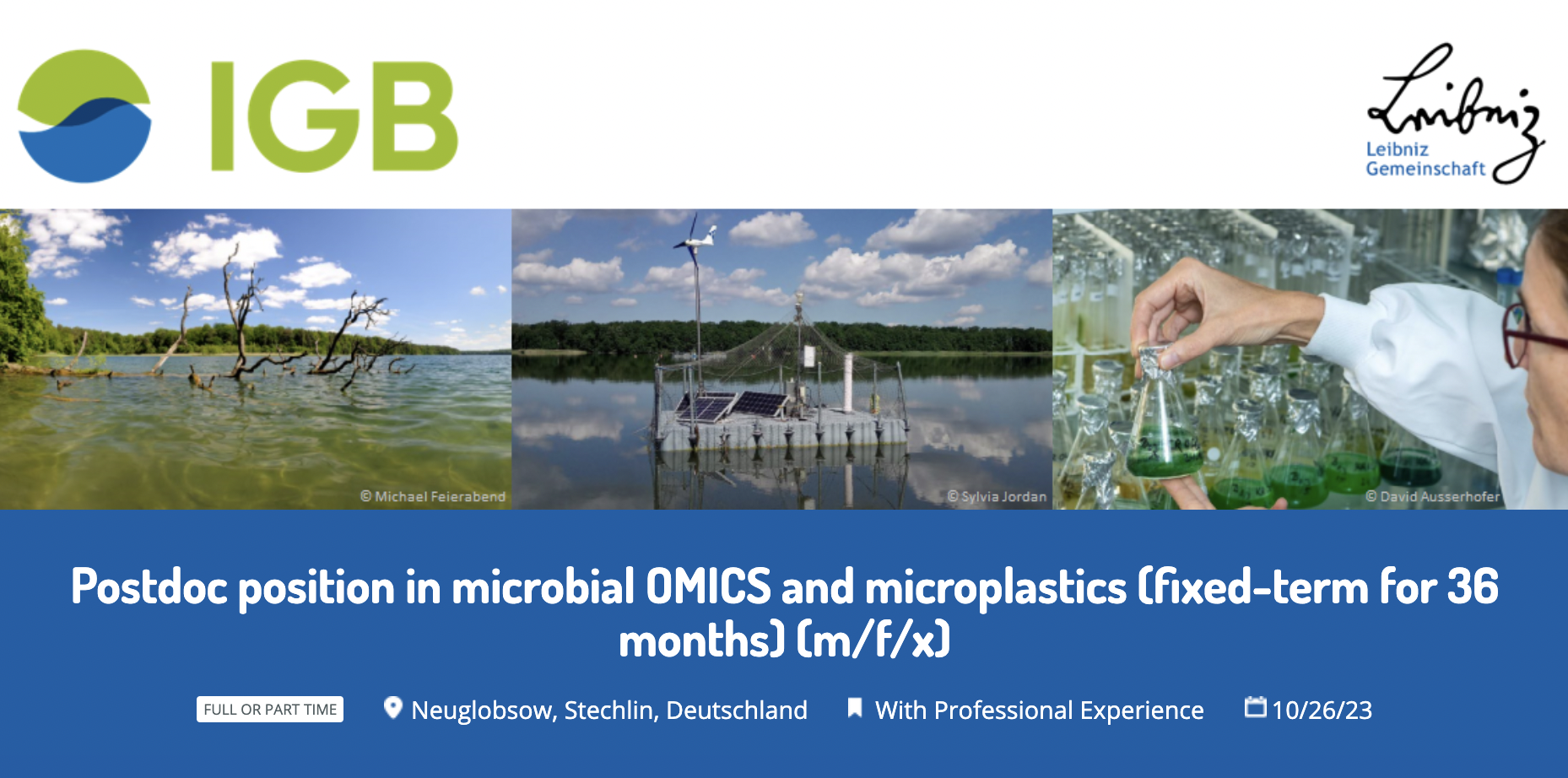 For the Department of Plankton and Microbial Ecology in the MIBI group (HP Grossart) of the IGB at Lake Stechlin, we are looking for a Postdoc (f/m/x) as of 1st of February 2024, for a project using metagenomics to follow microbial colonization and antibiotics gene transmission between prokaryotes and microeukaryotes (fungi & protists) on microplastics.
The work is carried out as part of a multidisciplinary EU-Horizon project (TULIP), which focuses on the nexus of three major interconnected crises the global society faces on a planetary scale: the silent pandemic of antimicrobial resistance (AMR), plastic pollution and climate change. In their own right, plastic pollution and climate change cause devastating impacts on Earth's ecosystems and present a formidable threat to health, biodiversity and water security. Temperature changes may further increase the length of the period suitable for cell division and HGT, creating new habitats for ARB to exist, spread and develop, e.g., in waste-water treatment plants (WWTP) outflows and thus in lakes and rivers. Overflooding of WWTPs due to extreme rain events related to climate change may facilitate the discharge of untreated waters into the environment and increase the spread of AMR and plastic waste.
To reach TULIP's objectives, we will conduct our research and activities in two different socio-ecological settings characterized by distinctive exposure to plastic pollution, climate change impacts, AMR spread, policy and regulation contexts, socio-economic level and cultural background. TULIP will be implemented in Italy and the Philippines.
Your tasks
Analysis of planktonic and benthic microorganisms in the lab using shotgun metagenomics

Field sampling in Italy and the Philippines

Bioinformatic and statistical analyses, e.g. genome annotation

Relate environmental variables to microbial dynamics

Build pipelines for functional OMICS analyses

Contributions to the overall scientific activities, publications, management and communication activities of TULIP
Your profile
Mandatory:
PhD degree in biology, genetics, bioinformatics, or similar

Excellent knowledge in molecular biology, especially DNA metagenomics and metatranscriptomics

Knowledge of bioinformatics and statistical tools

Experience in data analysis and scientific publication

Ability to work in a team, good English communication and management skills
Advantageous:
Our offer
We foster your career development by providing qualification and training opportunities. We also offer an exciting and versatile job in an international, dynamic, scientific working environment with opportunities for flexible working hours and mobile working.
This is a full-time position limited to 36 months as part of the EU-Horizon TULIP project in the period from 1st February 2024 to 31st January 2027 (provided funding is available). Salary is paid according to the German (Scientist) salary scheme for the public service (100% E13 TVöD Bund). However, part time work is also possible.
The IGB is committed to diversity. We welcome every application, regardless of gender and gender identity, origin, nationality, religion, belief, health and physical disabilities, age or sexual orientation. The IGB is committed to increasing the number of women in this field, therefore applications from women are particularly welcome. Severely disabled applicants with equal qualification and aptitude will be given preferential consideration.
Are you interested?
We look forward to receiving your application including a cover letter that details your motivation to work as a Postdoc with us and your fit to the profile, a CV, and contact information for 2-3 references in a single pdf file by 15.12.2023 (or until enough suitable candidates are found). Please state the job reference number 56/2023 and apply exclusively via our recruitment platform at www.igb-berlin.de/en/jobs.
Questions can be directed by email (hanspeter.grossart@igb-berlin.de) and phone ++49 (0)33082 699 91 to Hans-Peter Grossart. 
"Research for the future of our freshwaters" is the mission of the Leibniz Institute of Freshwater Ecology and Inland Fisheries (IGB). IGB is Germany's largest and one of the leading international research centres for freshwaters. We seek to understand the fundamental processes governing freshwaters and their communities. Our research findings help to tackle global environmental changes and to develop measures for sustainable water management. The IGB is a diverse and inspiring place to work and conduct research. We promote individual development at every career level and stand for lively exchange and cooperation. With more than 350 employees and guests from all over the world. IGB closely collaborates with numerous national and international universities and other partners in science and society and is a member of the Leibniz Association, which connects 97 independent public research institutes in Germany. www.igb-berlin.de