W3- University Professorship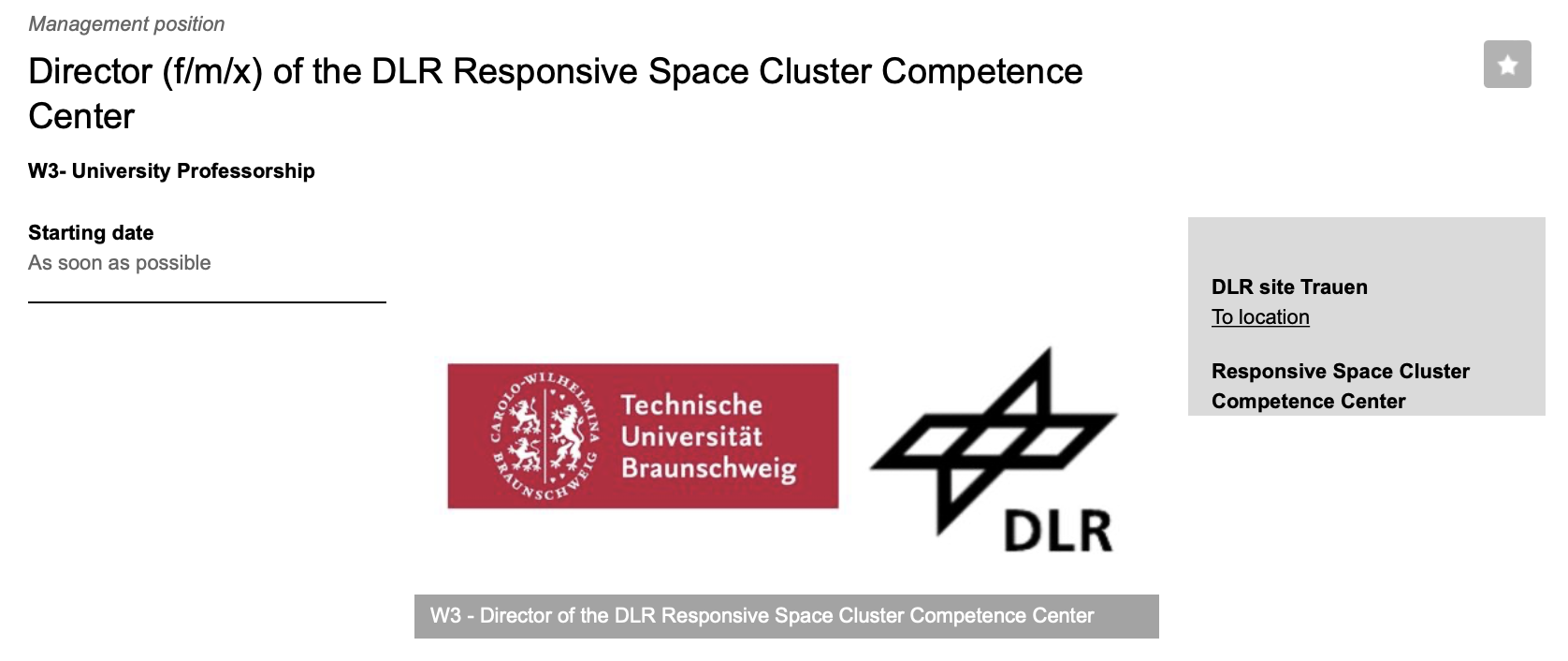 The Faculty of Mechanical Engineering at the Technische Universität Braunschweig (TU Braunschweig) and the German Aerospace Center (DLR) are looking in a joint appointment procedure (Jülich model) for a
University professor (W3) Space on Demand
who is appointed to the TU Braunschweig and at the same time granted leave with a reduced teaching load (two semester hours per week) to the DLR to take on the position of a
Director of the DLR Responsive Space Cluster Competence Center
The appointment is planned for the next possible date.
Your Responsibilities
The newly established DLR Responsive Space Cluster Competence Center at Trauen in 2021 aims to build a technology base in the context of "Responsive Space" and to carry out corresponding technology demonstrations. All relevant segments - space, ground, launch, and mission - are examined and further developed. In conjunction with 55 DLR institutes from the research areas of aeronautics, space, energy, transport, as well as their cross-cutting topics of security and digitalization, the future management of the Competence Center is expected to cooperate closely with institutes in neighboring íelds within the DLR as well as with the Bundeswehr and industry, following the cluster approach.
The Competence Center under development will address the following research focuses in perspective with approximately 60 employees:
small, micro, and nanosatellites: technologies and architectures

processes, methods, and technologies for payload integration (plug & fly)

agile, robust, and intelligent processes, methods, and technologies for the ground segment

mission analysis, design, planning, and operation of small satellites and small satellite constellations.
The professorship is located at the Institute of Space Systems at TU Braunschweig. The teaching includes lectures and exercises with a scope of 2 semester hours per week on systems engineering for Space on Demand.
Our Expectations
We are looking for a leader with proven management experience who comprehensively represents the field in research and teaching, and is well-connected nationally and internationally. Profound experience and outstanding scientiíc achievements in applied research in several of the above-mentioned research areas and preferably also in industry are required. Several years of experience in leading larger units and participation in regional, national, and international interdisciplinary collaborations are also required, as well as relevant academic studies with a doctoral degree.
Particular emphasis is placed on experience in collaborating with relevant ministries, authorities, research institutions, Bundeswehr, and industry, as well as on successful acquisition of third-party funded projects and technology transfer. The ability to teach and didactic skills complete the required profile for research and teaching.
We also expect active participation in the "Mobility" research focus of TU Braunschweig, very good command of the English language, and willingness to teach courses in English.
Requirements, § 25 NHG
completed university degree

proven pedagogical and didactic aptitude

special aptitude for in-depth independent scientific work, which is usually demonstrated by an above-average doctoral degree.

additional scientific achievements, which are usually demonstrated by a junior professorship, habilitation, or habilitation-equivalent achievements
Notes
The willingness to undergo a security check in accordance with the Security Check Act (§ 8 et seq. SÜG) is required for an application. A check in accordance with SÜG is a requirement for employment at DLR.
TU Braunschweig and DLR strive to increase the proportion of women in research and teaching. Qualified women are therefore strongly encouraged to apply.
Severely disabled applicants will be given preference if they are equally qualified.
Applications from scientists from abroad are welcome.
Applicants who have reached the age of 50 at the time of intended appointment and are not already in a civil servant relationship are generally hired as employees.
We are looking forward to receiving your application!
Applicants (f/m/x) are requested to submit the usual documents with their cover letter addressed to both the Chairwoman of the Executive Board of DLR, Prof. Dr.-Ing. Anke Kaysser-Pyzalla, and the Dean of the Faculty of Mechanical Engineering at TU Braunschweig, Prof. Dr.-Ing. Markus Böl:
cover letter

academic background (curriculum vitae)

academic certificates and diplomas

List of publications, including copies of three selected

publications

list of externally funded projects, indicating the project

number and the applicant's personal project function

research and teaching concept

list of courses taught and results of course evaluations

if applicable, add proof of parental/family leave

if applicable, add proof of recognized disability status
The processing of your personal data by DLR is based on a contract between TU Braunschweig and DLR according to Articles 26 and 28 of the DSGVO.
Please note that only applications received via the TU Braunschweig online form can be considered.
Deadline
We look forward to receiving your online application by 31.12.2023.
Contact
Questions regarding the advertised position will be answered by
Dr.-Ing. Markus Fischer (DLR),
T +49 2203 601-3698
Markus.Fischer@dlr.de
Questions about the professorship will be answered by
Dr.-Ing. Ulrich Römer (TU Braunschweig),
T + 49 531 391-62120
u.roemer@tu-braunschweig.de
If you have any questions regarding personnel law matters, please contact
Anne Fritz,
T + 49 531 391-4350
berufungen@tu-braunschweig.de
For questions regarding online applications, please contact
Nicole Brückner,
T + 49 531 391-14143
berufungen@tu-braunschweig.de