Aerospace Engineer, Computational Scientist or similar (f/m/x)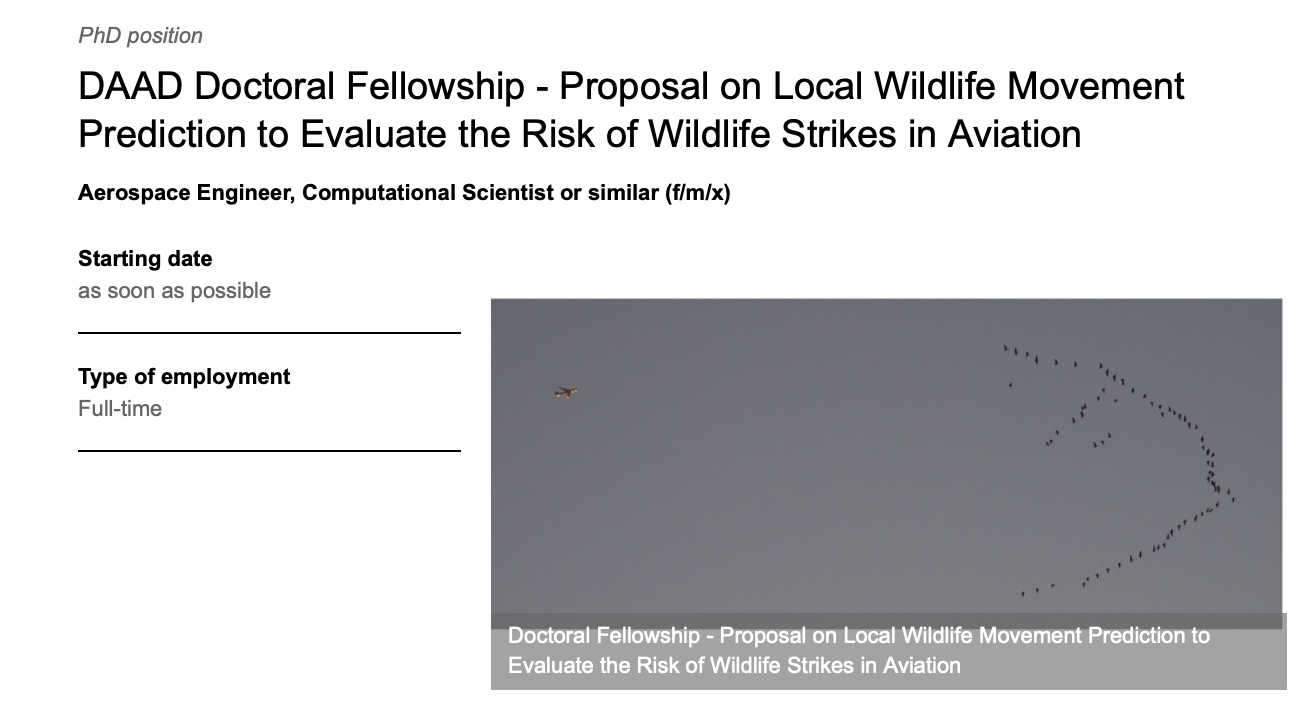 Wildlife Aircraft strikes are a threat to human life and kill millions of animals every year. Most of these collisions occur at altitudes of up to 3,000 ft (1,000 m). Conventional high-capacity fixed-wing transport aircraft are most vulnerable during take-off, initial climb, approach and landing. Currently, most preventive measures focus on keeping animals away from airport perimeters. To achieve a higher level of safety, it is proposed that air traffic controllers be brought into the loop by being provided with information on the risk of wildlife strikes. This would enable them to warn pilots, advise avoidance manoeuvres or delay take-offs to avoid collisions with animals. A prerequisite for the feasibility of such a system is reliable information on the presence of critical wildlife around flight paths.
The aim of this PhD project is to develop a model for predicting wildlife tracks and assessing their risk to aviation, based on several years of avian radar data. The model will be validated in fast- time simulations. In a second step, a workflow to adapt the model to different sites will be established and tested in fast-time simulations. Finally, the model output will be made applicable to operational air traffic control via an appropriate visualisation.
If successful, this project will enable air traffic controllers to take into account the current risk of collision for aircraft under their control to a much greater extent than is currently the case. This, in turn, will help take bird strike prevention to the next level, making a fundamental contribution to bird and aviation safety.
You can find more information on the application requirements here.
M.Sc in aerospace engineering, computational science or similar with strong interest in biology and ecology or M.Sc in biology, ecology or similar with strong interest in computational science
good programming skills (e.g R, python)
good writing skills in English (as shown in e.g. the MSc thesis, reports from other projects or publications)
experience in handling of Big Data advantageous
ideally experience with Machine Learning and Artificial Intelligence techniques
experience in working with trajectory data is of advantage
understanding of modelling and simulation techniques desirable
basic understanding of Air Traffic Management processes advantageous
publishing experience (conference and/or journal papers) is a plus
Look forward to a fulfilling job with an employer who appreciates your commitment and supports your personal and professional development. Our unique infrastructure offers you a working environment in which you have unparalleled scope to develop your creative ideas and accomplish your professional objectives. Our human resources policy places great value on a healthy family and work-life-balance as well as equal opportunities for persons of all genders (f/m/x). Individuals with disabilities will be given preferential consideration in the event their qualifications are equivalent to those of other candidates.
DLR - Helmholtz / Deutsches Zentrum für Luft- und Raumfahrt
---
Visit employer page
---
Deadline:
2024-02-07
Location:
Germany, Braunschweig
Categories:
Aerospace Engineering, Biology, Computer Engineering, Computer Sciences, Ecology, Programming, Scientific Computing,
Apply
Ads