PhD position on responses of free-living and host-associated microbiomes to urban pollution (m/f/x)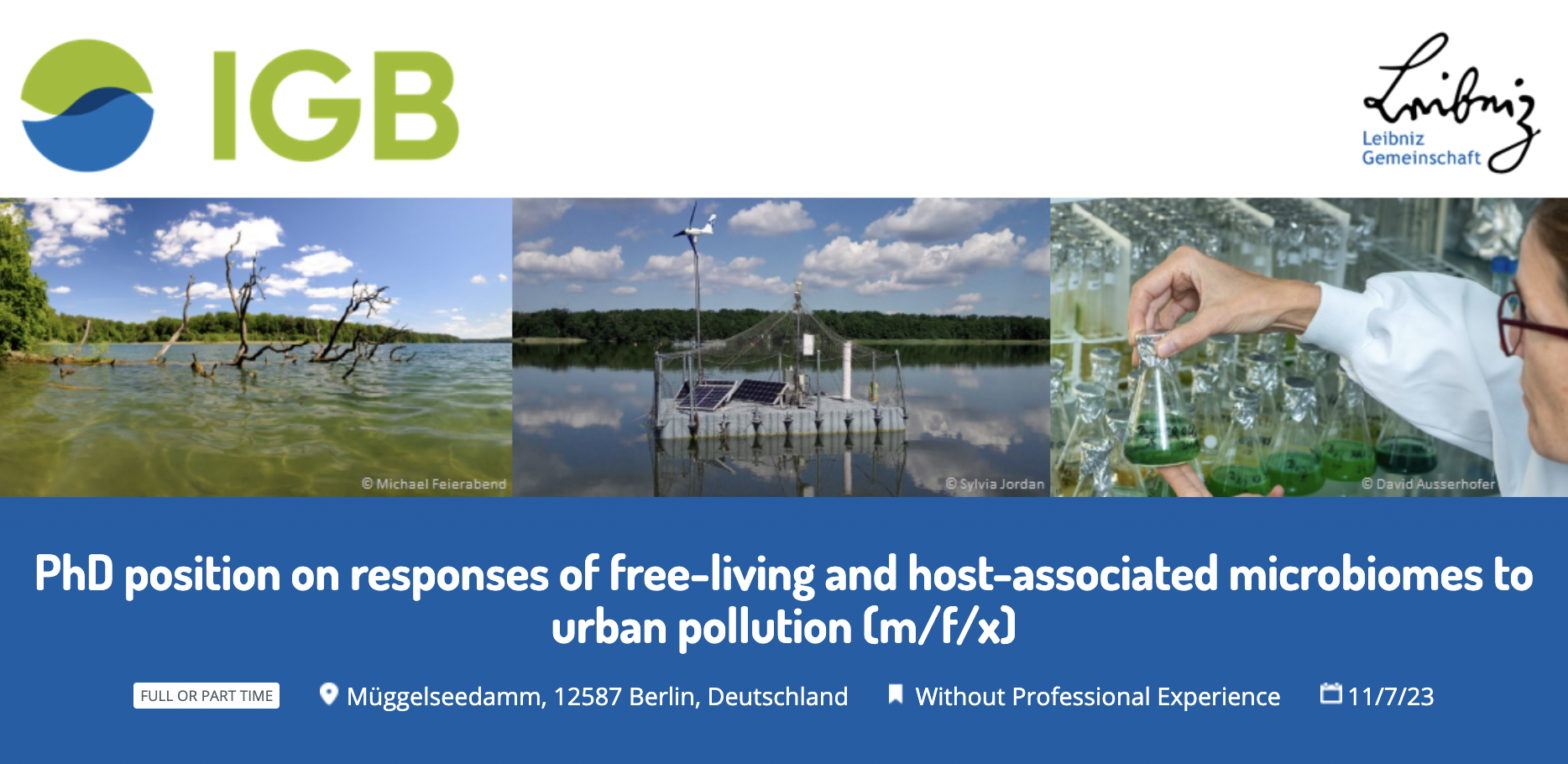 The research group Eco-evolutionary Dynamics at the Department of Evolutionary and Integrative Ecology and the research group Aquatic Microbial Ecology at the Department of Plankton and Microbial Ecology of IGB invite applications for a 3-year PhD position in microbial ecology starting from 01.03.2024 (or soon thereafter). The PhD position is part of the Leibniz Collaborative Excellence project "Pollution in urban ponds, eco-evolutionary dynamics and ecosystem resilience" (POUNDER) funded by the Leibniz Association and will be located in Berlin-Friedrichshagen at Lake Müggelsee and in Neuglobsow at Lake Stechlin. The overall goal of the POUNDER project is to assess the importance of urban ponds as nature-based solutions to manage climate-related hydrologic risks, while promoting biodiversity and human well-being in cities. POUNDER is an inter- and transdisciplinary project and involves partners from Berlin, Stechlin, Potsdam, Hannover, and the University of Iowa, USA.
The aim of this PhD position is to assess the responses of the free-living pond microbial community and gut microbiome of Daphnia to chemical pollution in urban ponds in Berlin. The respective PhD candidate will focus on microbial community composition from water samples of urban ponds and from Daphnia's gut and assess their functional responses to pollution, combining field sampling and microbial laboratory experiments. 
The research will combine field sampling of urban ponds in Berlin with small-scale laboratory experiments and analysis of large metagenomics data. We seek a dynamic scientist who is highly motivated to conduct a PhD and join existing interdisciplinary and international science teams. The successful candidate will have the opportunity to interact with scientists from different institutions and to establish a broad network within and outside of academia. IGB provides an attractive working environment, has excellent equipment, technical support, and state-of-the-art infrastructure to conduct the PhD and provides a PhD programme for PhD candidates.
Your tasks
Field work and sampling of urban ponds for microbial communities

Isolation of and DNA extraction from gut microbiomes of Daphnia from pond and experimental samples

Designing and performing experiments to test the capacity of microbial strains and communities to degrade organic chemicals

DNA extraction of water samples, sequencing, and bioinformatics for microbial community assessment

Participation in an outdoor mesocosm experiment using shotgun metagenomics and metatranscriptomics

Perform statistical analyses of metagenome sequencing and experimental data

Writing of manuscripts for submission to international peer-reviewed journals

Further result dissemination through presentations at national and international conferences
Your profile
Master (or equivalent) degree in bioinformatics, or related field

Experience with bioinformatic analyses of metagenomic data

Strong interest in microbial responses to anthropogenic change

Strong engagement for experimental work; demonstration of previous experience with microbiology is a bonus

Experience with molecular work, sequencing techniques and bioinformatic tools

Experience in statistical analysis

Very good English skills including scientific writing

Dedicated person with a collaborative team-spirit and good communication skills
Our offer
We offer an interesting position in an international and dynamic scientific environment. We foster flat hierarchies and active participation.
The position is intended for full-time doctoral research for 3 years and is paid according to the German salary scheme for the public sector (TVöD Bund, 65% of E13, subject to the provision of funds).
We foster your career development by providing qualification and training opportunities. We actively support the reconciliation of work and family life. Qualified women are particularly encouraged to apply. The IGB is committed to diversity. We welcome every qualified application, regardless of sex and gender, origin, nationality, religion, belief, health and disabilities, age or sexual orientation. Disabled applicants with equal qualification and aptitude will be given preferential consideration.
Are you interested?
We look forward to receiving your application by 18.12.2023 including a 1-page motivation letter, CV (with publication list if applicable), master and other relevant certificates, as well as contact information of 2-3 referees. Please state the job reference number 62/2023 and apply exclusively via our recruitment platform at www.igb-berlin.de/en/jobs.
Questions can be directed to Lynn Govaert by e-mail (lynn.govaert@igb-berlin.de) or Hans-Peter Grossart by e-mail (hanspeter.grossart@igb-berlin.de).
"Research for the future of our freshwaters" is the mission of IGB – Germany's largest and one of the leading international centres for freshwater research. In order to investigate different aspects of freshwater ecosystems, their biota and societal relevance, we unit a wide range of disciplines and understand research as a joint effort. With more than 350 employees and guests from all over the world, we conduct research at five locations in Berlin and at Lake Stechlin (Brandenburg). IGB is a member of the German Leibniz Association and the Forschungsverbund Berlin e. V. www.igb-berlin.de