Postdoc position (2 years) in eDNA analysis of freshwater plankton communities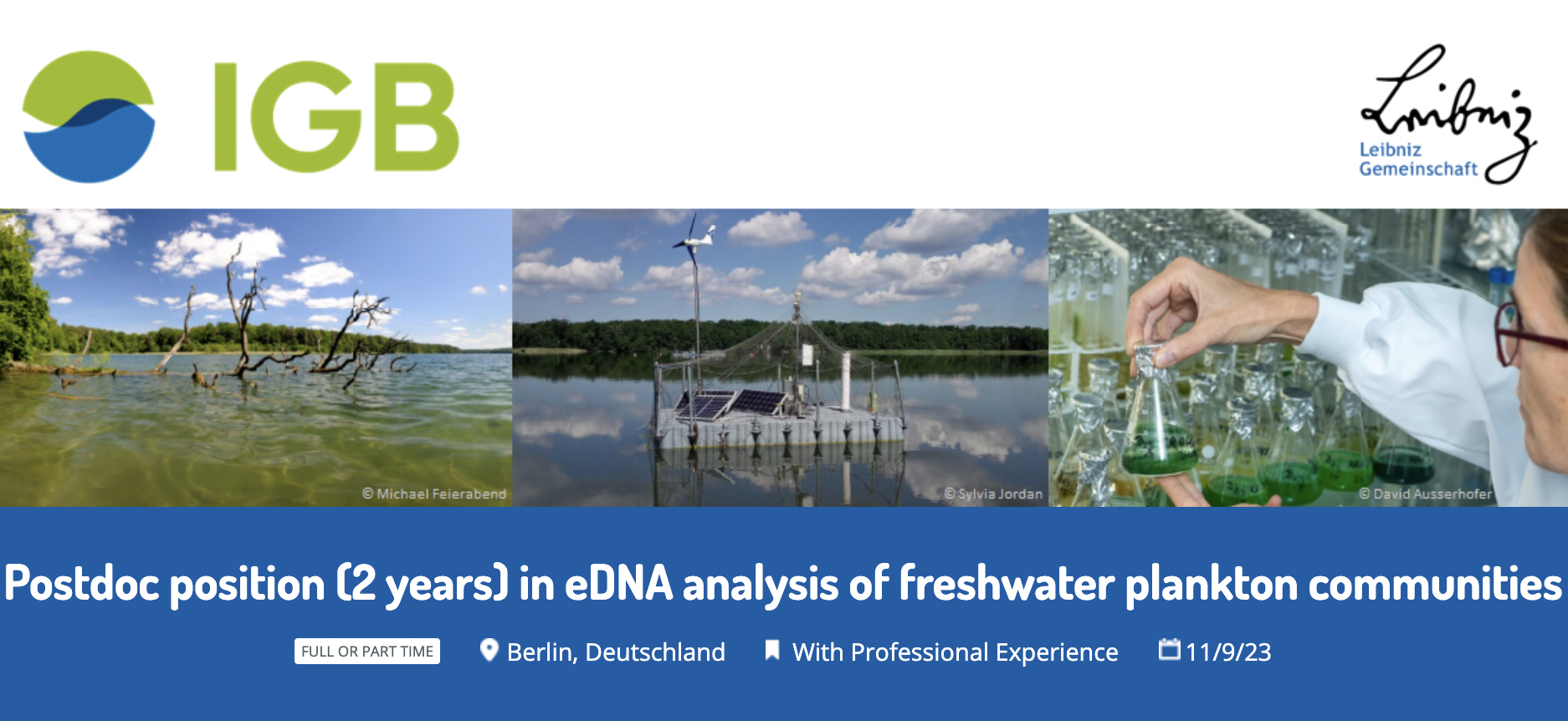 The Department of Evolutionary and Integrative Ecology of the IGB in Berlin is looking for a Postdoctoral Researcher (f/m/x) to start on 1 March 2024, for a project using water and sediment eDNA to study all trophic levels of freshwater ecosystems. The successful candidate will be part of a team aiming to integrate eDNA methods into the long-term research and monitoring carried out by IGB scientists and part of a multidisciplinary project investigating the environmental catastrophe in the Oder River of August 2022 (ODER-SO) which is funded by the Federal Agency for Nature Conservation (BfN). Specific applications of eDNA include the study of long-term changes to communities and the detection of invasive species.
Your tasks
Field sampling and laboratory eDNA analysis of freshwater species and communities

Statistical comparison of multiple methods of long-term research and monitoring, e.g., morphological and molecular

Interaction with multiple research groups that are using eDNA methods

Publication and scientific communication of the results
Your profile
PhD or equivalent in biology, ecology, bioinformatics, or similar

Experience with eDNA applications in freshwater

Knowledge of freshwater organisms

Experience in ecological data analysis using R

Willingness to collaborate

Good written and spoken English communication skills
Our offer
We offer an exciting job in a dynamic and international working environment with opportunities for flexible working hours and mobile working. Salary is paid according to the German (PhD) salary scheme for the public service (TVöD Bund, 100%). This employment contract is limited to 24 months, but with potential for extension. The position is principally suited for job sharing or part-time work.
We foster your career development by providing qualification and training opportunities. We actively support the reconciliation of work and family life. The IGB is committed to diversity. We welcome every qualified application, regardless of sex and gender, origin, nationality, religion, belief, health and disabilities, age or sexual orientation. IGB is committed to increasing the number of women in this field, therefore applications from women are particularly welcome. Disabled applicants with equal qualification and aptitude will be given preferential consideration.
Are you interested?
We look forward to receiving your application including a cover letter that details your motivation and your fit to the profile, a CV, and contact information for 2-3 references in a single pdf file by 15.12.2023. Please state the job reference number 63/2023 and apply exclusively via our recruitment platform at www.igb-berlin.de/en/jobs.
Questions can be directed to Michael Monaghan by e-mail (michael.monaghan@igb-berlin.de).
"Research for the future of our freshwaters" is the mission of the Leibniz Institute of Freshwater Ecology and Inland Fisheries (IGB). The IGB is Germany's largest and one of the leading international research centres for freshwaters. We seek to understand the fundamental processes governing freshwaters and their communities. Our research findings help to tackle global environmental changes and to develop measures for sustainable water management. The IGB is a diverse and inspiring place to work and conduct research. We promote individual development at every career level and stand for lively exchange and cooperation. With more than 350 employees and guests from all over the world, we conduct research at five locations in Berlin and at Lake Stechlin (Brandenburg). IGB closely collaborates with numerous national and international universities and other partners in science and society and is a member of the Leibniz Association, which connects 96 independent public research institutes in Germany. www.igb-berlin.de/en