Mechanical Engineer, Physicist or similar (f/m/x)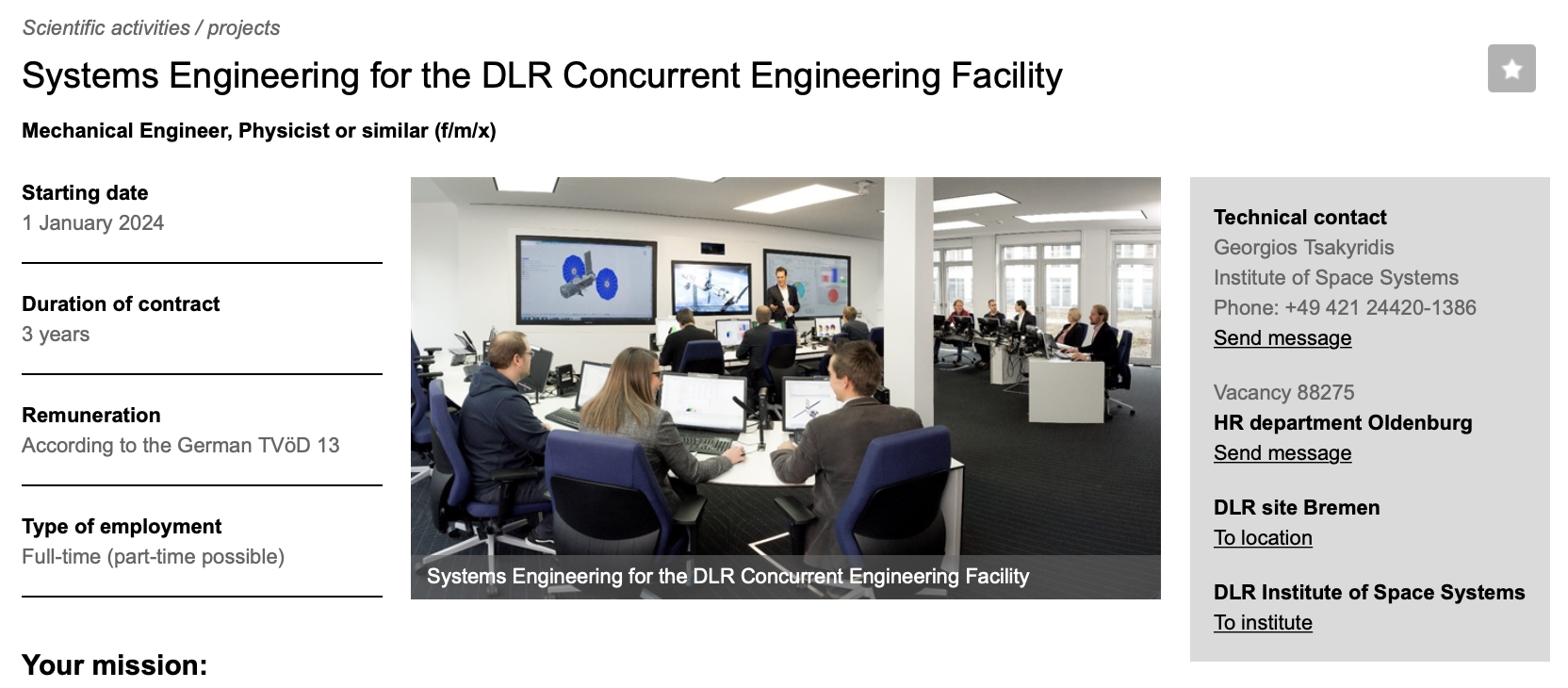 The Institute of Space Systems analyzes and evaluates complex space systems in technical, economic and socio-political terms. Furthermore, the institute develops innovative concepts for space missions with high international visibility.  
Within the Department of System Analysis Space Segment, studies and developments of space systems (orbital & planetary) are performed on concept level under technical, economic as well as socio-political aspects. The studies carried out in the department serve as preparation for activities in the field of systems engineering and as decision-making aids for politics and program boards. To this end, the department operates the Concurrent Engineering Facility, CEF (Simultaneous Design Laboratory) as well as the Planetary Infrastructures Laboratory for the development of specialized habitat technologies.
The major research facility CEF is used for mission definition, mission analysis, and early design, as well as for research and development tasks. Activities in the CEF are carried out with a team of multidisciplinary experts, and the involvement of internal and external partners, and conducted via the application of the Concurrent Engineering methodology which extends -and at time replaces- the traditional Systems Engineering methodology. In addition to Concurrent Engineering, the CEF is involved in the development and evolution of Collaborative Engineering methodologies, as well as their application within the CEF which, after its latest updates, can be used as a Collaborative Engineering Environment for use in remote work and involving other CE Centers.
You will be employed as a Systems Engineering (SE) and Concurrent Engineering (CE) expert in the Systems Analysis Space Segment RY-SRS department.
The advertised position comprises activities in the CE-laboratory within a corresponding team. In more detail the tasks include:
CE study operation as team leader, moderator and/or domain expert with internal (DLR) and external partners (space industry, universities)
Support the CEF responsible regarding organizational tasks
Concurrent Engineering Process Development (research and development, CE-model and tool development, Digital Transformation, MBSE, integration of commercial tools, QA, safety)
Collaborative Engineering Process Development (research and development)
Providing Systems Engineering and System Analysis expertise to proposals, studies and projects
Support the extension of the Concurrent Engineering Operation Team
Participation in international conferences and workshops
Documentation and publication of results
Supporting special lectures within systems/concurrent engineering courses
Acquisition of studies and projects
External Communication with public and press
External consulting
Completed university degree (master level) within a STEM area
Advanced understanding of the principles, theories, concepts and techniques of Systems Engineering
Experience in Concurrent Engineering and MBSE
At least one year of experience with space background
Experience in working in intercultural and multi-disciplinary teams
Experience in writing reports and scientific publications
Very good English (C1 level) and good German (B1) skills
Experience in Space Systems Engineering (at least Project Phase 0/A and B) desired
Affinity for managing, organizing, teaming and communicating
Ability to develop, motivate, coach, and maintain a high performing team is a plus
Ability to coordinate technical issues between subsystem elements desired
Experience working in within EU- and ESA-Projects (acquisition and execution) is a plus
Look forward to a fulfilling job with an employer who appreciates your commitment and supports your personal and professional development. Our unique infrastructure offers you a working environment in which you have unparalleled scope to develop your creative ideas and accomplish your professional objectives. Our human resources policy places great value on a healthy family and work-life-balance as well as equal opportunities for persons of all genders (f/m/x). Individuals with disabilities will be given preferential consideration in the event their qualifications are equivalent to those of other candidates.