Aerospace Engineer (f/m/x)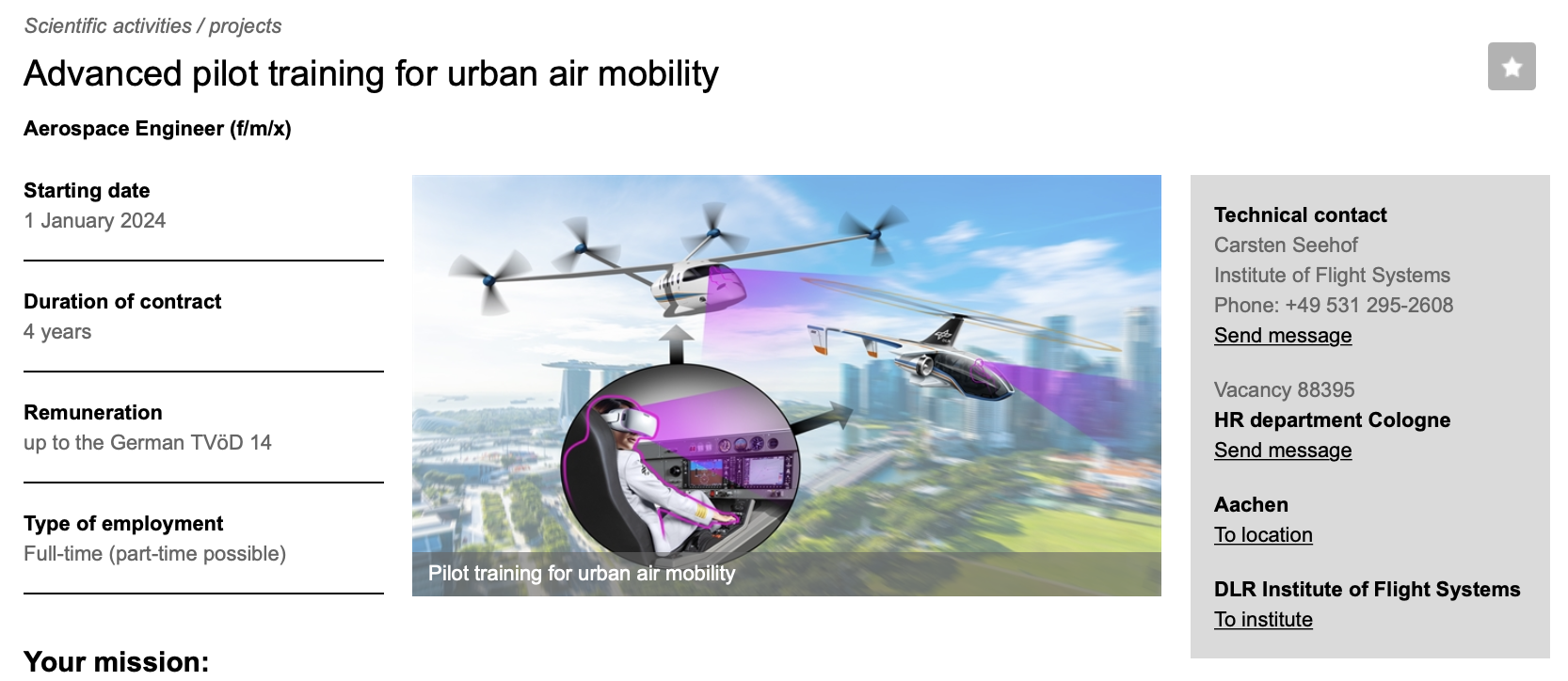 Considering commercial urban air mobility, there is a significant demand for pilots of small aircraft types that differ significantly from today's systems, particularly in terms of automation and new propulsion systems. Training and education of these new pilots are essential factors for flight safety and the acceptance of advanced air mobility (AAM). Flight training devices approved by aviation authorities need to be used for this training. New technologies in virtual/mixed-reality offer a great opportunity to achieve efficient pilot training for small aircraft at marketable costs.
You will be working as a member of the ALiTrain (Advanced Light Aircraft Training) team at the Innovation Centre for Small Aircraft Technologies in Aachen, focusing on the latest technologies for simulating modern small aircraft. Your task is to assess the training effectiveness and cost-efficiency of new simulation technologies. You will be working with flight schools, simulator manufacturers, as well as DLR experts in flight simulation from Braunschweig and aviation psychology from Hamburg. You will be responsible for building and ensuring the quality of new flight simulators. You will integrate new software modules into a simulation environment and conduct system- and practice-orientated tests.
You will define the content of experiments and deduce new insights regarding the certification of new technology. In addition to your scientific university education, you have a passion for flying and ideally are experienced as a responsible aircraft pilot.
You will implement your ideas in our dynamic and innovative environment with plenty of room for creative input. In addition to great team spirit, you can expect excellent infrastructure with modern facilities and up-to-date development environments.
Moreover, we actively support your professional and scientific development.
completed academic studies (Master level) in Aerospace Engineering, Aviation Informatics, or another relevant field for this position
professional experience in the field of flight simulation, pilot training, or regulation
experience with the programming language Matlab/Simulink
experience with object- oriented programming languages, e.g. C++
experience in system integration of Mixed Reality Technologies
experience with Git (source version control)
very good written and spoken German and English proficiency
team player
pilot's licence desirable
Look forward to a fulfilling job with an employer who appreciates your commitment and supports your personal and professional development. Our unique infrastructure offers you a working environment in which you have unparalleled scope to develop your creative ideas and accomplish your professional objectives. Our human resources policy places great value on a healthy family and work-life-balance as well as equal opportunities for persons of all genders (f/m/x). Individuals with disabilities will be given preferential consideration in the event their qualifications are equivalent to those of other candidates.