Engineer Electrical engineering, Computer Science or similar (f/m/x)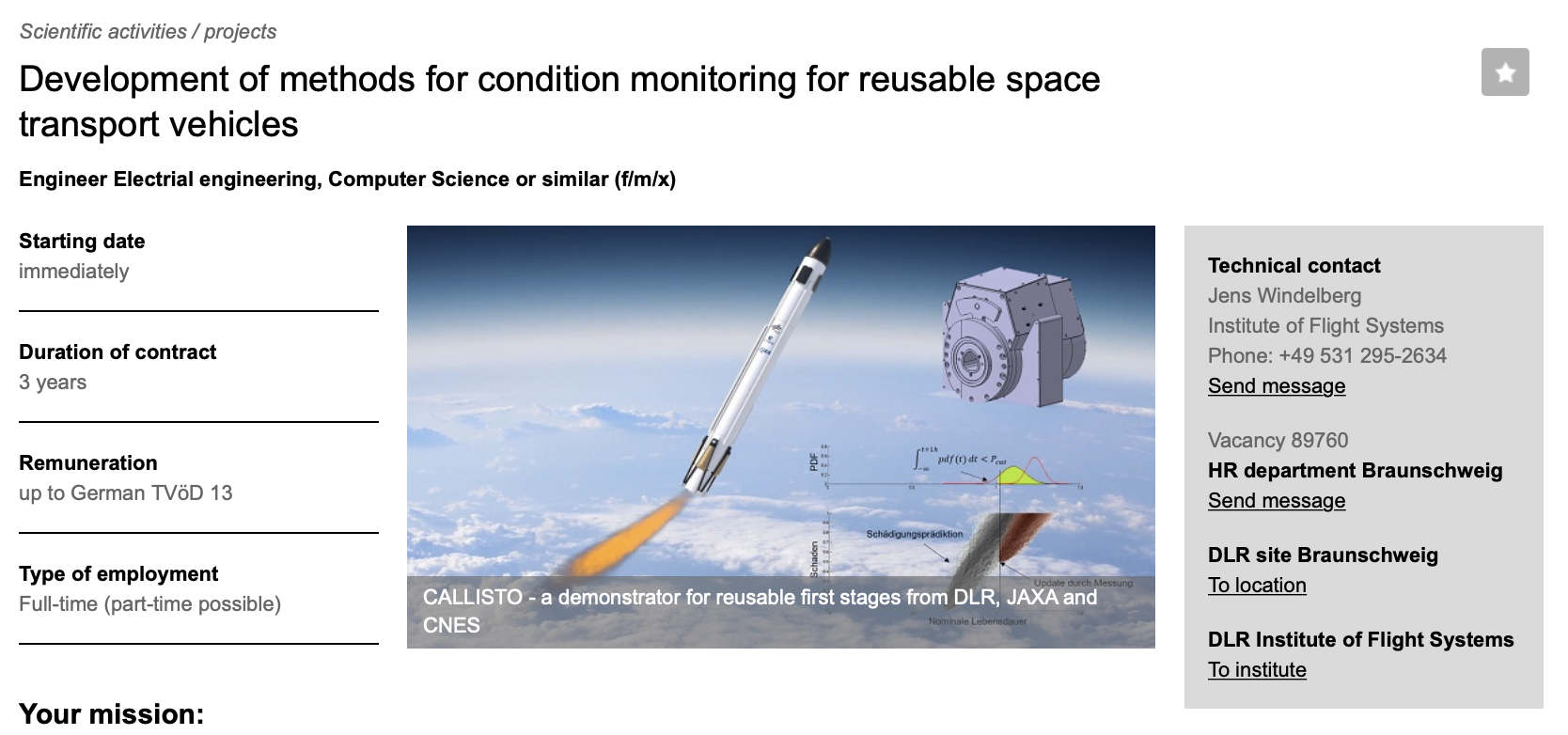 The development of reusable launch vehicles is pacing up with first commercially available implementations by SpaceX and several research projects and currently under development demonstrators in Europe. Key enabler for success of those vehicles is the cost-efficient operation. Time consuming inspections and requalification tests between flights assuring the safety of the rocket systems and its structural components can impose significant costs and are time consuming rendering rapid turnarounds without blocking launch infrastructure impossible. To speed up the requalification of the vehicle with its different systems build in monitoring functions, tracking the usage and mapping it to sustained damage can be used and augmented by algorithms detecting and evaluating changes to the nominal behavior.
You will develop these innovative algorithms for electromechanical flight control actuators for a prototype reusable launch vehicle. You will model these mechatronic systems and analyze them with regard to optimal state variables for diagnosing damages. As condition monitoring in flight is especially complex because of the challenging environmental conditions, you will also design dedicated tests to be run after each flight and optimize them with regard to the sensitivity of your damage detection algorithms.
Using our extensive test benches, you can validate their performance in experiments. The data you generate is also used to train our algorithms and contributes significantly to their performance. Your work will also flow into the design of DLR's Digital Twin for future commercial aircraft.
In our department you will become part of a dynamic and scientifically highly innovative team. You benefit from the existing expertise and infrastructure and contribute to their continuous development in the course of your work. If you have the necessary degree of personal responsibility and share with us the high standards on the scientific quality of your work, we can offer you the ideal environment for personal and professional development at an internationally high level.
completed academic university degree in the field of electrical engineering, computer science, mechatronics or mechanical engineering with a relevant specialization

in-depth knowledge of electromechanical actuators

very good knowledge of health and usage monitoring and/or signal processing

good knowledge of a modeling and simulation environment for dynamic systems, for example MALAB / Simulink, Modelica or Python

very good written and spoken German and English 

experience in the design and implementation of condition monitoring systems, proven through relevant internships and / or student work desired
Look forward to a fulfilling job with an employer who appreciates your commitment and supports your personal and professional development. Our unique infrastructure offers you a working environment in which you have unparalleled scope to develop your creative ideas and accomplish your professional objectives. Our human resources policy places great value on a healthy family and work-life-balance as well as equal opportunities for persons of all genders (f/m/x). Individuals with disabilities will be given preferential consideration in the event their qualifications are equivalent to those of other candidates.
DLR - Helmholtz / Deutsches Zentrum für Luft- und Raumfahrt
---
Visit employer page
---
Deadline:
2024-02-26
Location:
Germany, Braunschweig
Categories:
Computer Engineering, Computer Sciences, Electrical Engineering, Engineer, Engineering, Mechanical Engineering, Mechatronics,
Apply
Ads