two student assistants (w/m/div)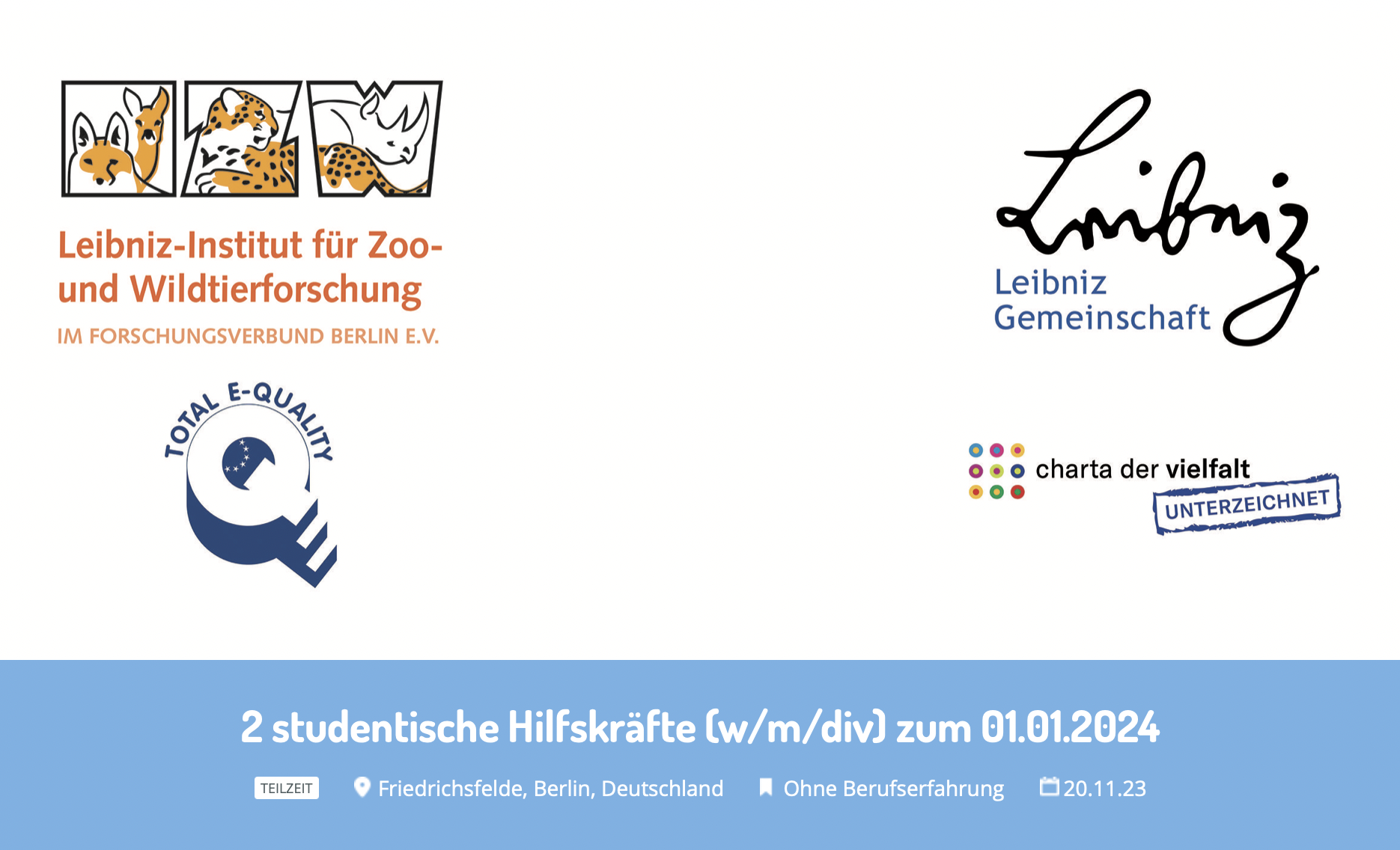 For English version please see below.
Das Leibniz-Institut für Zoo- und Wildtierforschung (Leibniz-IZW) im Forschungsverbund Berlin e.V., Teil der Leibniz-Gemeinschaft, will die Anpassungsfähigkeit von Wildtieren im Kontext des globalen Wandels verstehen und wo möglich verbessern. Dafür untersucht es die Vielfalt der Lebewesen, Mechanismen evolutionärer Anpassungen und Anpassungsgrenzen inklusive Krankheiten von Wildtieren in- und außerhalb menschlicher Obhut und ihre Wechselbeziehungen mit Mensch und Umwelt in Deutschland, Europa und Übersee. Das Institut erfüllt diese Aufgabenstellung durch langfristig angelegte, anwendungsorientierte, interdisziplinäre Grundlagenforschung in den Bereichen Evolutionäre Ökologie, Ökologische Dynamik, Evolutionsgenetik, Wildtierkrankheiten, Reproduktionsbiologie und Reproduktionsmanagement. 
Für die Abteilung Ökologische Dynamik suchen wir vorbehaltlich der Mittelbewilligung ab 01.01.2024 
2 studentische Hilfskräfte (w/m/div)
mit mind. 10 bis zu 19 Stunden/Woche.
Aufgabengebiet:
Wir benötigen zwei studentische Hilfskräfte, um unsere Forschungsarbeiten bei der Suche nach dem verschollenen Saola zu unterstützen. Das Saola, ein Wildrind welches erst 1992 wissenschaftlich beschrieben wurde, gilt seit dem letzten Kamerafallenfoto vor 10 Jahren als verschollen. Das Leibniz-IZW unterstützt die derzeitige, großangelegte Suche zur Rettung des Saolas durch die Analyse von Umwelt-DNA-Proben aus der Region. In dieser Umwelt-DNA wird in unseren Laboren nach Spuren des Saolas und anderer seltener Säugetieren gefahndet, um so die letzten, hoffentlich noch verbliebenen Populationen der seltenen Arten zu finden. Für die dafür notwendigen molekulargenetischen Arbeiten im Labor benötigen wir Unterstützung, hinsichtlich DNA-Extraktion, PCR, Aufreinigung von PCR-Produkten sowie' in-house' Illumina Sequenzierung.
Erwünschte Kenntnisse und Fähigkeiten :
 Immatrikulierte*r Student*in der Biologie oder vergleichbarer Studiengang;

 

Kenntnisse und Erfahrungen im molekulargenetischen Labor (DNA-Extraktion, PCR, NGS);

 

abgeschlossene Ausbildung zur BTA/CTA ist vorteilhaft;

 

sehr gute bis gute Englischkenntnisse;

 

hohe Motivation, Flexibilität und Teamfähigkeit;

 

Basiskenntnisse in der Nutzung R.
Aufgrund der kurzen Projektdauer ist die Position auf 6 Monate befristet und kann ab 1. Januar 2024 besetzt werden. Die Arbeitszeit beträgt maximal 19 Stunden pro Woche, jedoch ungern weniger als 15 Std pro Woche. Arbeitsort ist das Leibniz-IZW in Berlin Friedrichsfelde. 
Willkommen sind Menschen gleich welchen Geschlechts, welcher Herkunft, sexuellen Orientierung und Religion, es besteht Chancengleichheit. Schwerbehinderte werden bei gleicher Eignung bevorzugt berücksichtigt. Wir fördern Vielfalt, bitte überzeugen Sie uns mit Ihrer Qualität und Kompetenz. 
Das Leibniz-Institut für Zoo- und Wildtierforschung ist "Total-E-Quality" zertifiziert und unterstützt aktiv die Vereinbarkeit von Beruf und Familie und fördert die Gleichstellung. 
Für weitere Informationen zu dem Projekt kontaktieren Sie bitte Dr. Andreas Wilting (wilting@izw-berlin.de, Tel. 030 5168 333) oder, bei Fragen zu den Laborarbeiten, Dr. Jan Axtner (axtner@izw-berlin.de, Tel. 030 5168 342).
Haben wir Ihr Interesse geweckt? So bewerben Sie sich:
Bitte klicken Sie am Ende dieser Ausschreibung auf "Online Bewerben" und übermitteln Sie uns auf diesem Wege Ihre vollständigen Bewerbungsunterlagen, d.h. kurzes Motivationsschreiben, Lebenslauf, Immatrikulationsbescheinigung und ggfs. aktuelle Notenübersicht. Mit vollständig vorbereiteten Daten können Sie sich innerhalb von 10-15 Minuten in unserem Bewerbungsportal bewerben. 
Die Bewerbungsfrist endet am 06.12.2023.
Wir freuen uns auf Ihre Bewerbung!
*******************************************************************
The Leibniz Institute for Zoo and Wildlife Research (Leibniz-IZW) in the Research Association Berlin e.V., part of the Leibniz Association, explores the diversity of living beings, mechanisms of evolutionary adaptations, adaptation limits including diseases of wild animals in and outside of human care, and their interactions with humans and the environment. The institute fulfills this task through long-term, application-oriented, interdisciplinary basic research in the areas of Evolutionary Ecology, Ecological Dynamics, Evolutionary Genetics, Wildlife Diseases, Reproductive Biology, and Reproductive Management.
For the Department of Ecological Dynamics, subject to budget approval from January 1st, 2024, we are looking for 
two student assistants
min 15 working hours with up to 19 working hours per week.
Responsibilities:
We need two student assistants to support our research efforts in the search for the elusive Saola. The Saola, a wild cattle species scientifically described only in 1992, has been considered missing since the last camera-trap photo 10 years ago. The Leibniz-IZW supports the current large-scale search to save the Saola by analyzing environmental DNA samples (leeches and water samples) from the region. In these environmental DNA samples, our laboratories search for traces of the Saola and other rare mammals to locate the last, hopefully remaining populations of these rare species. Support is needed for the molecular genetic work in the laboratory, including DNA extraction, PCR, purification of PCR products, and 'in-house' Illumina sequencing.
Desired knowledge and skills:
 

Enrolled student in Biology or a comparable field of study;

 

Knowledge and experience in molecular genetic laboratory techniques (DNA extraction, PCR, NGS);

 

Completed training as a BTA/CTA is advantageous;

 

Very good to good English skills;

 

High motivation, flexibility, and teamwork;

 

Basic knowledge in the use of R.
Due to the short project duration, the position is limited to 6 months and can be filled from January 1st, 2024. The working hours are a maximum of 19 hours per week, but preferably not less than 15 hours per week. The workplace is the Leibniz-IZW in Berlin Friedrichsfelde.
We welcome applications regardless of gender, origin, sexual orientation and religion. Disabled persons will be given preferential consideration in case of equal suitability. We promote diversity, so please convince us with your quality and competence. The Leibniz Institute for Zoo and Wildlife Research is "Total-E-Quality" certified, promotes equality and actively supports a work-life balance.
For further information about the project, please contact Dr. Andreas Wilting (wilting@izw-berlin.de, Tel. 030 5168 333), or for questions about the laboratory work, Dr. Jan Axtner (axtner@izw-berlin.de, Tel. 030 5168 342).
Have we piqued your interest? 
To apply, please click below on "Apply Online." Please submit your complete application documents, including a brief motivational letter, CV, enrollment certificate, and, if applicable, current grades, as soon as possible but not later than December 6th, 2023 via the IZW's online job-application facility (button"Apply online"). 
We look forward to your application!