PhD Position (m/f/d)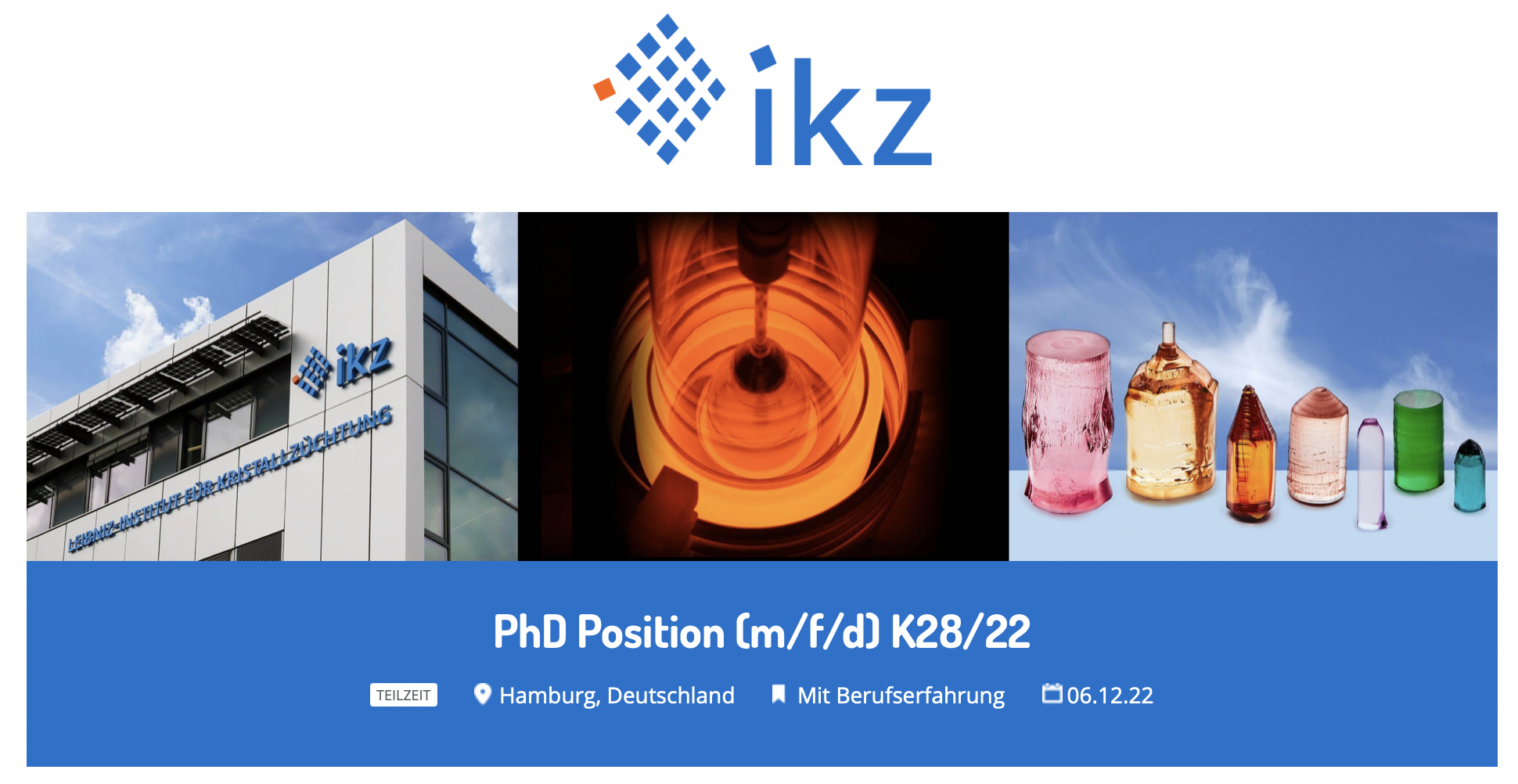 The Leibniz-Institut für Kristallzüchtung (IKZ) is a leading research institution in the area of science & technology as well as service & transfer of crystalline materials. Our goal is to enable solutions for urgent societal challenges (e.g. communication, artificial intelligence, climate protection, health etc.). by modern electronic & photonic technologies. The work covers the full spectrum from basic over applied research up to pre-industrial development and is performed in collaboration with national and international partners from university, academy and industry. The institute is part of the Forschungsverbund Berlin https://www.fv-berlin.de/) and a member of the Leibniz Association www.leibniz-gemeinschaft.de. You can find more details on the institute webpage: www.ikz-berlin.de.
The Leibniz-Institut für Kristallzüchtung currently offers a  
PhD Position (m/f/d)
for the topic 
 "Thin-film piezoelectric materials for surface acoustic wave applications".
Surface Acoustic Wave (SAW) devices play an important role for many technological applications. A famous example is mobile communications – already today a mobile phone contains many SAW components for signal processing. The key ingredients of such devices are piezoelectric materials, which convert an external RF electric signal into a SAW. In this project we specifically address high-frequency SAWs which are needed in mobile communications or in sensorics. In terms of material properties, Pb-based materials show the best performance. Unfortunately, due to its toxicity, the material disqualifies for consumer market applications. In this project we will benchmark both new materials and new device architectures to improve future device properties such as frequency bandwidth and acoustic efficiency.
The materials are grown at IKZ in Berlin. The functional properties will be characterized with time-resolved optical and synchrotron-based X-ray diffraction experiments at the IKZ-DESY JointLab in Hamburg Bahrenfeld. The main part of the work will be focused in Hamburg, however, extensive presence at IKZ in Berlin is very welcome.
Qualifications:
MSc degree in physics, materials science, nanoscience or in a related discipline
Prior experience in the following fields is an asset to your application:
Hands-on experience with lasers and experimental optical setups

Hands-on experience in thin-film growth and nanostructuring

Strong background in solid state physics especially in optical characterization methods (Raman, Ellipsometry etc.)

Knowledge in X-ray physics
What we offer
The position is limited to three years, an extension for another year is possible. Payment is according to TVöD Bund (75 %) (Treaty for German public service) including the usual social benefits (30 vacation days in a 5-day week, flexible working hours). The IKZ is an equal opportunity employer and actively supports reconciliation of work and family life. There is equality for applicants of all genders. Qualified women are especially encouraged to apply. Among equally qualified applicants, preference will be given to disabled candidates.
For information about the project please contact:
Dr. Peter Gaal, Tel. +49(0)40-8998-5835, peter.gaal@ikz-berlin.de
Dr. Jutta Schwarzkopf, Tel. +49(0)30-6392-3053, jutta.schwarzkopf@ikz-berlin.de
Have we aroused your interest? 
Then apply directly by clicking on the "Apply online" button below with a letter of motivation, curriculum vitae and all relevant certificates. Applications will be accepted until the position is filled.
 We look forward to receiving your application!